Condo vs Townhouse vs House: What's the Best First Property?
Posted by Gary Ashton on Monday, June 27, 2022 at 11:12 AM
By Gary Ashton / June 27, 2022
Comment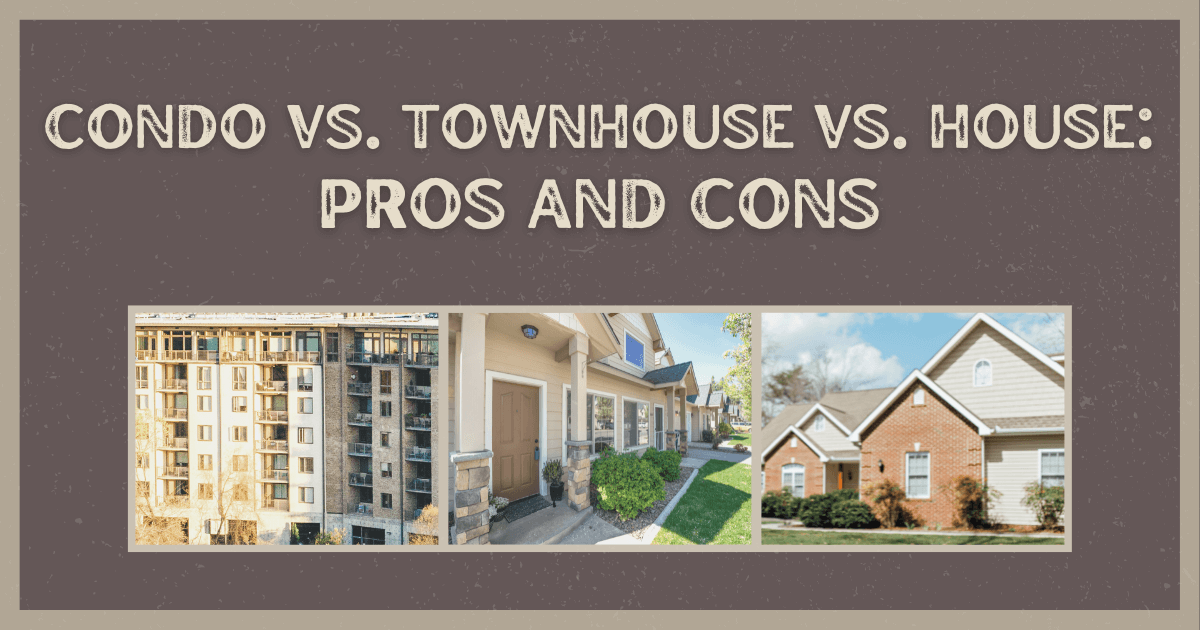 Investing in a new home can be an especially exciting time for first-time buyers. However, there are many layouts and styles of housing to consider, especially in urban areas. The sheer number of options can make it challenging for buyers to decide on the best type of property: a single-family home, a condo, or a townhouse.
Each property type has perks and potential drawbacks, which buyers should consider when setting up tours of homes for sale. Budget, lifestyle habits, and time constraints might ultimately be significant factors. Read on to discover the best first property to buy between a townhouse, condo, and single-family home.
Single-Family Homes as a First Property
Single-family homes are detached properties offering greater privacy than townhouses or condos. The most obvious thing to consider is that single-family properties tend to be more expensive than condos or townhomes, but they also help establish equity.
However, these traditional homes appeal to first-time buyers who want more square footage, yard space, and greater freedom to do as they wish with their property with minimal oversight. While owners can customize, there might be a homeowners' or property owners' association that regulates certain aspects of the home, such as:
Exterior paint colors
Landscaping regulations
Installation of pools or spas
Structural additions to the home or property
Rules for exterior maintenance
However, a detached home is convenient for those with pets who love the outdoors and for owners who don't mind doing a bit of yard work.
Along with the freedoms of owning a single-family home, there are other things to consider that might seal the deal or ultimately be deal-breakers. Possible drawbacks of these properties include:
Additional costs for upgrades, maintenance, and major repairs
Yard work, landscaping, and extra charges for leaf and snow removal
Higher purchase costs and initial down payments
Fewer amenities than condo and townhome communities
Some communities will have HOA or POA fees
Most planned communities containing detached and connected homes have a set of covenants, conditions & restrictions (CC&Rs), rules, regulations, and bylaws that buyers should consider.
Townhomes as a First Property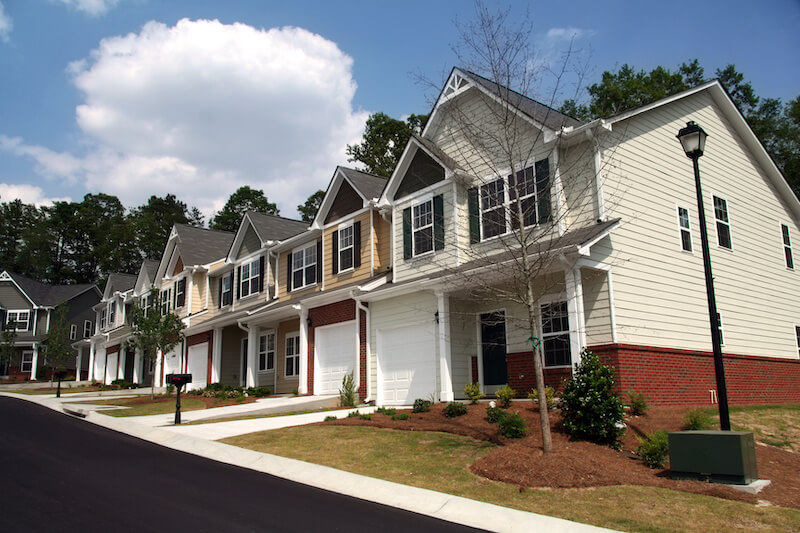 Buying a townhouse as a first property can be attractive for many. Typically, townhouses are two or three stories and may have finished basements, attics, and attached garages. Not only are they more affordable than the average two or three-bedroom single-family home, but such communities mean less lawn work and certain types of exterior maintenance.
One of the most defining features of townhouses is ownership. Owners typically own the land the unit sits upon and some of the front and back yard of the residence within their property survey. Depending on how the community is structured, townhome buyers usually own the property's exterior, like the roofing, fencing, and siding, but may be limited to specific paint colors, material types, and landscaping rules.
Depending on the situation, the HOA or the owner may be held liable for certain damages or the need for repairs, while some cases may find these parties taking on a 50/50 financial arrangement for incidences. Another key cost owners will need to consider when purchasing a townhome is they will be held accountable for carrying homeowners insurance and paying property taxes.
Townhomes typically operate under an HOA or POA and have CC&Rs and bylaws that are strictly enforced. For a set fee, this entity and its management company cover paying for the upkeep of common areas, trash pickup, and community-wide repairs and maintenance of exteriors. The latter are considered special assessments that are voted into action by owners in annual or special sessions.
Condos as a First Property
Condos can be the ideal investment for first-time homebuyers due to their affordability, which means a lower down payment to save for. Monthly mortgage payments may be easier to manage, and many buyers can lock in low interest rates under first-time home buyer programs.
Condos offer buyers the most hands-off approach, letting new owners get their feet wet without feeling overwhelmed. Much of the exterior maintenance and landscaping is done by the condominium owners' association (COA).
Condos do not generally come with any land, as even the ground the unit sits on is officially owned by the COA. The owners in the community collectively own the common areas as interest holders.
COAs use owners' monthly or annual homeowners dues to cover the cost of exterior upkeep and to pay for property insurance. They carry an umbrella policy to cover disasters and supplemental policies that cover more costly repairs and upgrades such as roofs, parking areas, elevators, landscaping, painting, and maintaining commonly shared amenities.
Essentially, anyone interested in working less around their home and spending more time enjoying amenities like pools, tennis courts, picnic areas, and green spaces might want to consider purchasing a condo. Those who love being near the action will find that many condo communities are situated close to city centers where shopping, dining, and entertainment are plentiful.
The Best First Property Should Fit Your Needs & Lifestyle
The property type a buyer ultimately chooses should reflect their lifestyle and personal needs. Does the property have a geographical location that pleases you? Does it fit the occupants' daily needs as far as commuting and proximity to frequented destinations?
The ideal home will be well suited for the buyer's specific size needs, budget, and level of maintenance readiness. Take time to tour all three types of these residences before getting too committed to one style. As a first-time buyer, you might be surprised at your final choice!