Property Taxes in Nashville TN Suburbs: 8 Cities With Low Rates
Posted by Gary Ashton on Wednesday, September 6, 2023 at 3:38 PM
By Gary Ashton / September 6, 2023
Comment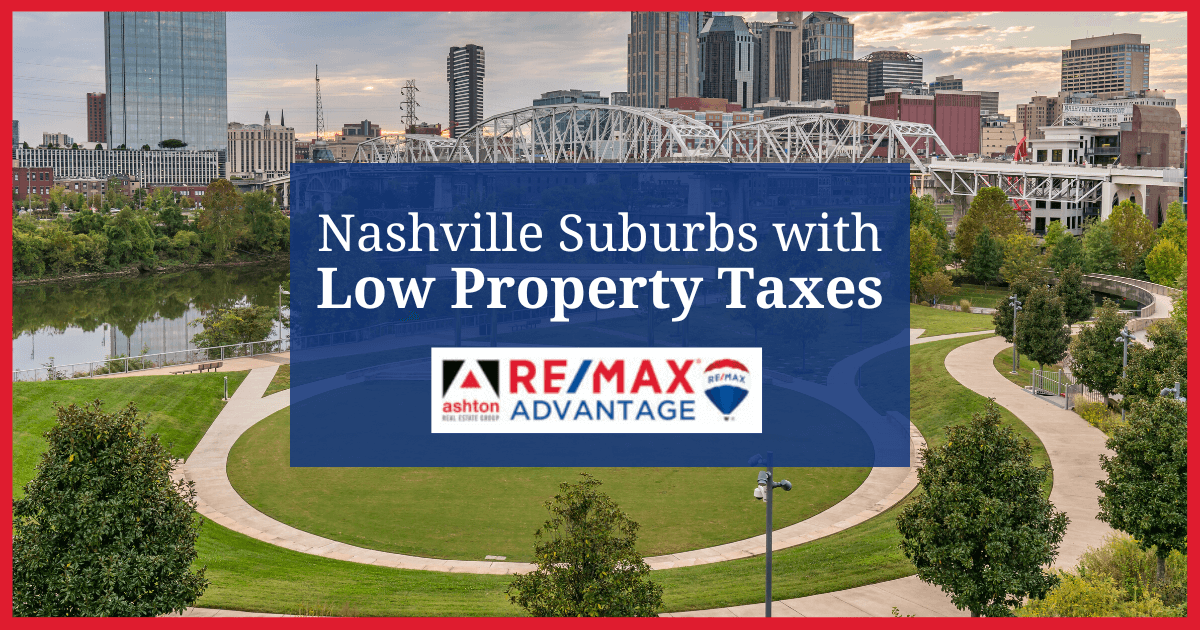 In the tranquil expanse surrounding the city of Nashville, a realm of suburban havens beckons with an often-overlooked advantage: low property taxes. Buffered from the city's bustle, these Nashville suburbs offer an enticing prospect for budget-conscious individuals seeking both the proximity to urban amenities and the relief of minimized tax burdens. This article delves into eight of Nashville's best suburbs, highlighting the serenity, economic appeal, and distinct advantages that come with their affordable property tax rates.
White Bluff
With only about 4,000 residents, the town of White Bluff offers a quaint alternative to city living. But while it may feel a world away from the hustle and bustle of the city, it's nevertheless just 30 miles west of the thriving heart of Nashville, a quick and convenient trip along US Route 70. Still, potential buyers shouldn't let the town's small size fool them.
White Bluff is still home to numerous restaurants, convenient everyday shopping, and local favorites like Chappell's Hometown Foods. It's also an ideal spot for nature lovers, with most homes just minutes from Montgomery Bell State Park. This nearly 4,000-acre park provides incredible boating and fishing opportunities on three lakes, miles of hiking trails, a golf course, an amenity-filled lodge, and more.
City property taxes are set at $0.55 per $100 of assessed value, resulting in a $2,750 annual bill for a half-million dollar home. New construction homes in White Bluff are common, starting from around $300,000. Larger homes on more spacious lots can reach the $700,000 to $800,000 range. A limited selection of two-bedroom townhomes is also available, typically in the mid-to-high $200s.
White Bluff Amenities
Montgomery Bell State Park
White Bluff Community Center
White Bluff Elementary School
William James Middle School
White Bluff Skate and Bike Park
Mt. Juliet
Known as "The City Between the Lakes" for its location between Percy Priest Lake and Old Hickory Lake, Mt. Juliet provides a gorgeous low-tax escape less than 20 miles east of downtown Nashville. This fast-growing Wilson County community has more than tripled in population size since the turn of the century, offering a desirable mix of nature, convenience, and country charm.
Aside from the two gorgeous lakes, residents can also enjoy green spaces like Charlie Daniels Park, while those who prefer shopping can check out the popular stores and eateries near Providence Marketplace. Meanwhile, access to several of the region's largest roads makes getting into Nashville or around the Middle Tennessee Region a breeze.
Those who own homes in Mt. Juliet are responsible for $0.11 per $100 of assessed value in city property taxes, which means a half-million dollar property would incur a $550 annual bill. The community is primarily made up of single-family detached homes, with a few small townhouse-style developments also available. Homes start in the mid-$200s for modestly sized, less recently built properties, and the median listing price in town is in the mid-$600s. Luxury homes in Mount Juliet can list for more than $4 million, but most sell from the $800s–$2.2 million. Homesites and lots are available from under $100,000 into the high six figures.
Mt. Juliet Amenities
Charlie Daniels Park
Mt. Juliet Bark Park
Providence Marketplace shopping mall
Cedar Creek Marina
Interstate 40, US Route 70 access
Brentwood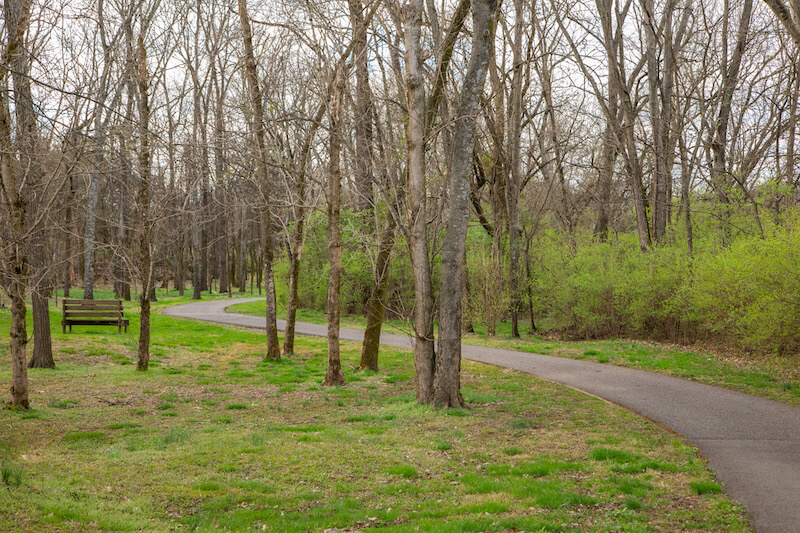 Brentwood sits along Interstate 65 just over Nashville's southern border, placing residents just ten miles from downtown. Its parks are a highlight of life there, including the many amenities of Crockett Park, like the Eddy Arnold Amphitheater, numerous sports courts and fields, a playground, and an indoor arena.
There's also Marcella Vivrette Smith Park, which spans over 400 acres. Meanwhile, the areas along US Route 31/Franklin Road and Interstate 65 provide extensive shopping and dining options for all tastes and budgets.
Brentwood homeowners are responsible for city property taxes set at $0.29 per $100 of assessed value, corresponding to $1,450 in annual taxes on a $500,000 property. Single-family detached homes make up almost all of Brentwood's housing. These two- to four-bedroom properties start in the mid-$400, with typical homes for sale in Brentwood listing from $1–$1.5 million. Luxury homes in Brentwood can list for more than $7 million. Lots and homesites are also commonly available and can sell from around $300,000 to over $3 million.
Brentwood Amenities
Convenient to Nashville
Interstate 65 access
Crockett Park
Marcella Vivrette Smith Park
Hill Center Brentwood shopping mall
John P. Holt Brentwood Library
Nolensville
Nolensville is a charming small town along Mill Creek, about 20 miles south of Nashville. The small northeast Williamson County community is almost entirely residential outside of the State Route 11/Nolensville Road corridor, which is home to businesses, shops, and local restaurants like Outlanders Southern Chicken and Campo Azul.
This corridor is also home to Nolensville Park, the site of numerous sports fields and other amenities, as well as the indoor Williamson County Recreation Complex. Residents can easily slip out into the gorgeous Tennessee countryside as it is or hit up entertainment on Broadway, with numerous other top suburbs like Franklin and Brentwood just minutes away.
City property taxes in Nolensville are $0.29 per $100 of assessed value, meaning a $500,000 property would be charged $1,450 per year. Would-be buyers will find almost exclusively single-family detached homes in this lightly-developed community. Homes in Nolensville can be found in the $400s but regularly top $2 million for the newest, largest Nolensville luxury homes. However, typical options range from $700,000 to $1 million. Average homesites and lots list from the $200s–$700s.
Nolensville Amenities
Nolensville Park
Williamson County Recreation Complex
Gary Force Acura Ice Arena
Nolensville Farmer's Market
Adams
Less than a thousand people live in the small town of Adams. Despite its size, the Robertson County community is within commuting distance of the big city. Adams may be best known as the site of Bell Witch Cave, a spooky local attraction that offers tours of a historic, supposedly haunted property and hosts seasonal events.
It's the most distant of the top low-tax suburbs, roughly 40 miles north of downtown Nashville and close to the Kentucky border. However, convenient access to US Route 41 and I-24 makes the trips to the city of Clarksville quick and easy, and the town presents a great alternative to the cost of living in Nashville. Closer to home, residents can enjoy access to the Red River, a top spot for fishing, canoeing, kayaking, and tubing, with opportunities for picnicking and hiking along the banks.
Homeowners in Adams are assessed $0.3491 in property taxes per $100 of home value, resulting in an annual tax bill of about $1,745. The single-family detached homes that make up the area's housing are a mix of older and relatively new construction properties, ranging from two bedrooms under 1,000 square feet of living space to four- and five-bedroom options with more than four times that amount. Prices are similarly wide-ranging, primarily from the mid-$200s to $1 million, though luxury homes in Robertson County can list for more than $2 million.
Adams Amenities
Red River access
US Route 41 access
Convenient to I-24
Close to Port Royal State Historic Park
Franklin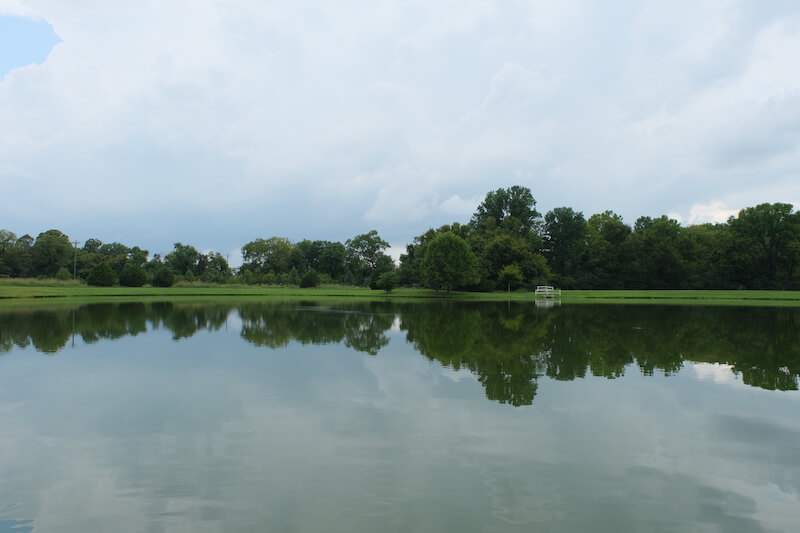 Would-be buyers looking for a charming small town that won't bust their property tax budget will find a lot to love in Franklin, just over 20 miles south of Nashville. Historic Downtown Franklin is one of the region's most charming, walkable downtowns, centered around Franklin Public Square.
The blocks surrounding it feature a variety of shops, local restaurants like 55 South, bars and nightlife spots, and even entertainment and cultural venues like The Franklin Theatre. Shop at The Factory at Franklin, a former factory repurposed into a hip, modern shopping destination, along with the sprawling CoolSprings Galleria mall complex. Meanwhile, numerous green spaces like Pinkerton Park offer a chance to enjoy the gorgeous Middle Tennessee scenery and the Harpeth River.
Franklin homeowners pay $0.3261 per $100 of assessed value, meaning a half-million dollar property would see a yearly city tax bill of roughly $1,630. Single-family detached homes make up the vast majority of housing. They start as low as the mid-$300s, but most list from the $800s–$1 million. Luxury homes for sale in Franklin have a median listing price of around $2 million. Franklin's condos provide a more affordable option, starting in the mid-$200s. Buyers looking to build their homes can also find vacant land in Franklin from around a quarter million to the single-digit millions.
Franklin Amenities
Historic, walkable downtown
Pinkerton Park
The Park at Harlinsdale Farm
CoolSprings Galleria shopping mall
Interstate 65 access
Smyrna
Smyrna is located roughly 25 miles southeast of the heart of Nashville and just over 10 miles northwest of the city of Murfreesboro. This location, paired with its access to Interstates 24 and 840 along with US Highway 41, makes it one of the best home bases for adventures anywhere in Middle Tennessee. Smyrna also boasts one of the area's most thriving economies thanks to the town's Nissan plant, one of the largest in the nation. The plant has been a primary driver of the town's growth from less than 10,000 residents in the 1980s to more than five times that size today.
Numerous green spaces like amenity-rich Lee Victory Recreation Park are spread throughout town, featuring a diverse dining scene with options including Thida Thai and Hickory Falls Restaurant. Meanwhile, residents also have access to convenient shopping, renowned medical facilities, and quick access to top natural areas like Percy Priest Lake.
Smyrna homeowners pay $0.5257 per $100 of assessed value in property taxes, corresponding to approximately $2,628 annually. Single-family detached homes in Smyrna start as affordably as the low $200s for two- to three-bedroom homes around 1,000 square feet. Average three- and four-bedroom homes sell in the $300,000–$600,000 range, while spacious, modern Smyrna luxury homes can list for $1 million or more.
Smyrna Amenities
Lee Victory Recreation Park
Sharp Springs Park
Percy Priest Lake access
Marketplace at SMYRNA shopping mall
TriStar StoneCrest Medical Center
US Route 41, Interstates 24, 840 access
Smyrna/Rutherford County Airport
Ashland City
Sitting along the northern bank of the Cumberland River just over 20 miles west of Nashville, Ashland City is a quaint, historic place to call home that offers affordable taxes. The Cheatham County community features river views and green space close to home and hunting, hiking, and other activities of Cheatham Wildlife Management Area—as well as the water activities of Harpeth River State Park.
A small but walkable downtown offers several local shops, businesses, and eateries like Riverview Restaurant, which also provides marina services. This close-knit community is known for local events, from farmer's markets to public concerts and festivals.
Property taxes in Ashland City are set at $0.53 per $100 of assessed value, meaning owners of a half-million dollar home would see an annual bill of $2,650. Most homes in Ashland City are single-family detached properties, which start in the low to mid-$200s for more modest two-bedrooms. Plentiful choices can be found in the $300s and $400s, though luxury homes for sale in Ashland City can list for more than $1.5 million. A more limited selection of Ashland City condos and townhomes can be found from as low as the $200s but can also reach close to a million for luxury or penthouse-style options.
Ashland City Amenities
Riverbluff Park
Caldwell Nature Park
Cheatham Wildlife Management Area
Cumberland River Bicentennial Trailhead
Riverview Marina
TriStar Ashland City Medical Center
Tax Advantages Await in Nashville's Suburbs
As the curtain draws on this exploration of Nashville's smaller and quieter suburban enclaves, one thing becomes clear: the allure of low property taxes need not remain the secret of the lucky few. From the rolling landscapes to the inviting community spirit, these suburbs—increasingly drawing homebuyers exploring moving to Nashville—welcome individuals looking to make the most of their resources. As Nashville continues to evolve, these pockets of affordable tranquility stand poised to welcome those who seek a harmonious blend of economic prudence and suburban serenity.
If you're excited by the opportunities in Nashville, contact the Ashton Real Estate Group of RE/MAX 1st Advantage with TNRealEstate at (615) 301-1650 to get in touch with our experienced team of real estate agents and discover the perfect Nashville home for you today.