7 Nashville Neighborhoods With Low HOA Fees: Enjoy HOA Benefits at a Lower Cost
Posted by Gary Ashton on Wednesday, October 4, 2023 at 10:45 AM
By Gary Ashton / October 4, 2023
Comment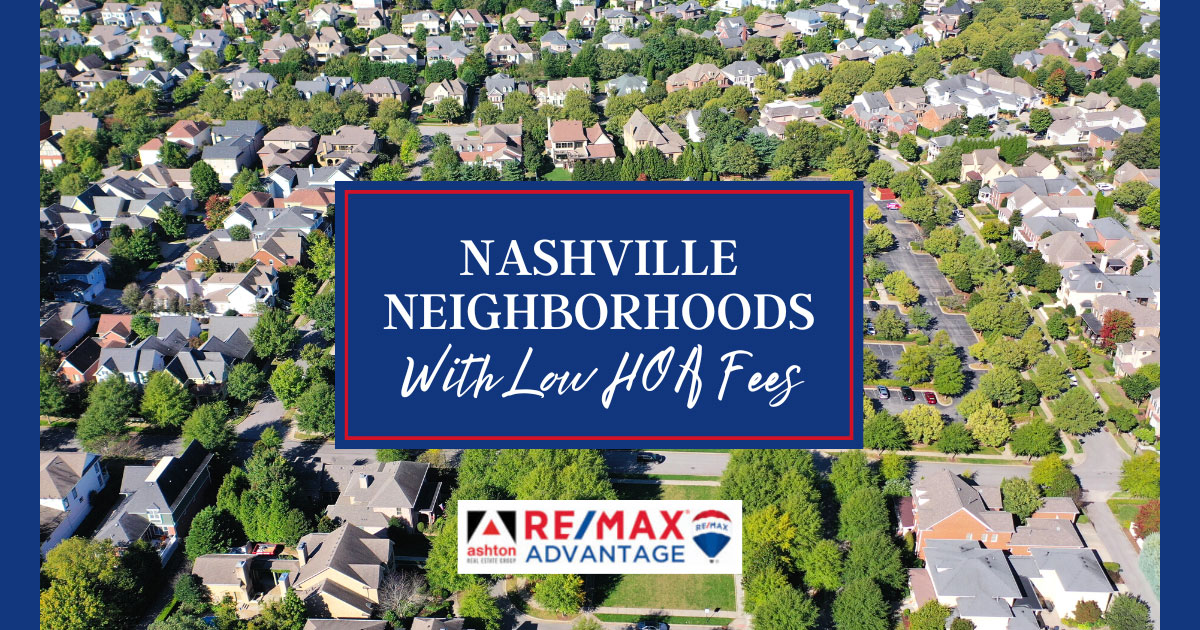 The city of Nashville is often lauded for its rich musical history and southern charm, but it also has a dynamic tapestry of neighborhoods, each with unique offerings. For potential homeowners who are paying attention to their finances, homeowners association (HOA) fees become a vital consideration. While some areas come with high monthly commitments, there are areas throughout Nashville's best neighborhoods where the HOA fees remain refreshingly modest. This article navigates through these neighborhoods, offering insights into the most cost-effective community living in Music City.
Patina Circle
Low fees, an excellent location, and a chance to know neighbors are among the most significant selling points of the Patina Circle neighborhood. It includes about two dozen homes on a quiet loop street with a monthly HOA fee of around $40.
This compact community is located on the western side of the Sylvan Park neighborhood just off White Bridge Pike/Briley Parkway, as well as Interstate 40 and US Route 70/Charlotte Avenue, all providing quick, direct travel around the region. The latter route includes grocery stores, a variety of local businesses, and restaurants of varying cuisines and budgets, like The Ridge and Miss Saigon, all just minutes away.
The neighborhood is also near top amenities and attractions like the beautiful McCabe Golf Course, several local colleges, and the Hill Center shopping mall. Residents also have access to community green space along Richland Creek's banks.
Homes in Patina Circle are all detached homes, though style, appearance, and price points vary significantly. They include three to five bedrooms and a similar number of bathrooms, ranging from around 1,700 square feet to nearly double that size. Some enjoy homes with swimming pools and spacious attached garages, while others include high-end features like balconies and backyard fire pits. Properties typically sell from around $600,000–$900,000.
Patina Circle Amenities
Convenient everyday shopping and restaurants
Interstate 40, US Route 70 access
McCabe Golf Course
Convenient to Nashville State Community College
The Woodlands
The Woodlands is a sought-after suburban community in the hills along Old Hickory Boulevard in south Nashville. It's located roughly midway between Downtown Nashville and the town of Nolensville, and it's less than five miles from Brentwood, putting some of the best neighborhoods in the region at owners' fingertips.
While the community is entirely residential, it's just minutes from numerous shopping centers, restaurants, coffee shops, big box stores, and nearly everything residents could need. It's also easy to access some of Middle Tennessee's best natural landscapes, from Radnor Lake State Park in the west to the numerous parks and other attractions around Percy Priest Lake in the east.
Single-family detached homes comprise the entirety of The Woodlands, with most including four or five bedrooms and 2,000 to nearly 4,000 square feet of living space. In addition, many offer extensive outdoor space to enjoy the area's usual peace and quiet.
The carefully designed neighborhood and mature landscaping provide nearly every house with extra privacy and seclusion. Homes for sale in The Woodlands typically list from the $500s–$800s, but outliers above and below that range are also common. The HOA fees at the Woodlands are around $25 per month.
The Woodlands Amenities
Mature community landscaping
Numerous nearby shopping plazas
Close to Radnor Lake State Park and Percy Priest Lake
Salemtown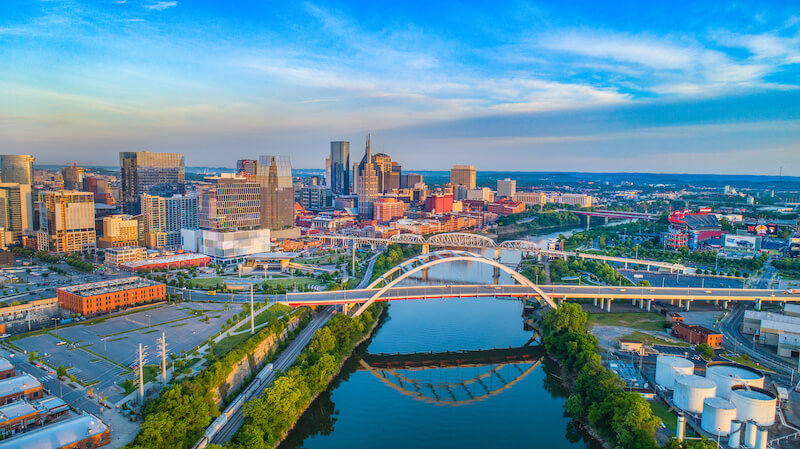 Would-be homebuyers looking to live close to the heart of the city may find their low-HOA home in Salemtown, just north of the Germantown neighborhood near I-65. Unlike planned communities, membership in this more organic neighborhood association is voluntary, with $30 membership dues going toward local events, development projects, and community engagement.
While it may not be as well known as its neighbor to the south, residents of Salemtown can still easily enjoy Germantown's dining and nightlife scene, outdoor space, and convenience to Downtown Nashville. This also allows residents to do everything from commuting to heading downtown for a night out without needing a car. The small neighborhood also enjoys green space at Morgan Park, which is also the site of a popular rec center.
Housing in Salemtown is a diverse mix of condos, semi-attached and townhome-style properties, and fully detached single-family homes, all of which range from historic to modern in style and amenities. On the low end, more modestly sized or older properties start just north of half a million dollars. Most homes for sale in Salemtown list from $800,000 to just over $1 million. The latter is usually for unique properties that are relatively spacious for their age and location.
Salemtown Amenities
Convenient to downtown Nashville and Germantown
Morgan Park and Recreation Center
I-65 access
Cumberland River Greenway access
The Ridge at Stone Creek
The Ridge at Stone Creek includes a few quiet streets and cul-de-sacs on secluded land along Nashville's southern border. This ultra-private residential community can feel a world away from the big city, even though the heart of Downtown Nashville is just a 15-mile drive.
Residents are even closer to the thriving city of Brentwood, which offers access to I-65, extensive dining and shopping options at Hill Center Brentwood, and several large regional employers. It's also close to several green spaces like Crockett Park, a popular spot for local events and home to numerous sports fields and facilities.
The single-family detached homes that make up the Ridge at Stone Creek are as luxurious as they are spacious, commonly including four or five bedrooms and more than 4,000 square feet. Lots in the area can also be quite roomy, from a quarter acre to more than a full acre, providing plenty of outdoor space and privacy.
Many owners even take advantage of this space by adding private pools or other outdoor amenities. In addition, many feature high-end interior finishes like stainless steel appliances, en-suite bathrooms, a dedicated laundry room, and oversized garages. Homes in the Ridge at Stone Creek typically sell from around $700,000 to $1 million, with top properties slightly exceeding that range.
The Ridge at Stone Creek Amenities
Close to Mill Creek Park and Greenway, Crockett Park
Concord Village Shopping Center
The Governors Club golf course
Historic Richland
More than 650 homes decorate the 14-block area of Historic Richland, one of Nashville's first planned subdivisions built in the early 20th century. While plenty of the original preserved homes remain—now some of Nashville's historic homes—newer properties are sprinkled in, still maintaining the area's character.
Residents are adjacent to I-440 for leisurely trips around the region, while downtown is less than five miles to the east. It's also an ideal place to call home for members of the Vanderbilt University community, with the campus just across the highway. This area is also home to the gorgeous Centennial Park, one of Nashville's best parks and most unique green spaces, while the more modest but still delightful and historic Elmington Park is even closer to home.
Homes in Historic Richland are primarily single-family detached structures built in four-square and bungalow style. These typically include two to five bedrooms and 2,000–5,000 square feet. Prices start at just over $1 million and can reach $2 million on the high end. Nashville condos and townhouse units are also available, primarily along West End Avenue. These generally sell from $400,000 to around half a million dollars. The HOA in Historic Richland is around $45 per month.
Historic Richland Amenities
Listed on the National Register of Historic Places
Elmington Park
I-440 access
Convenient to Vanderbilt University and Centennial Park
Ascension St. Thomas Hospital West
Hound's Run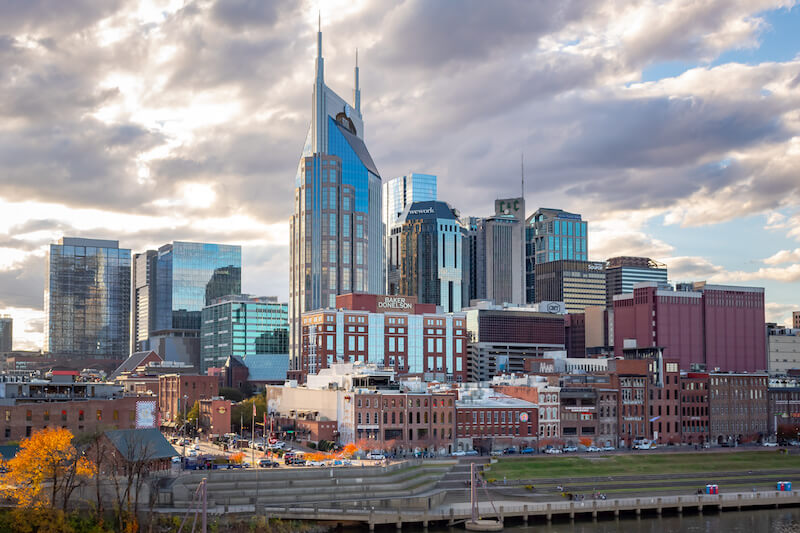 Hound's Run is a quiet, hilly community just off Granny White Pike in Forest Hills. It was first developed in the late 1980s but continues to see new homes built today. It's a top choice for outdoor lovers, who can enjoy a diverse mix of natural environments, from water activities and hiking at nearby Radnor Lake State Park to simply relaxing in their own gorgeous, secluded backyards.
Golfers will also love the proximity to Richland Country Club and Harpeth Hill Golf Course, two of the area's top places to hit the links. It's also just a few minutes from Brentwood's shopping and dining options, with Nashville just over 10 miles north as well.
The single-family detached homes of Hound's Run are among the area's grandest, most spacious, and most expensive. Even the most affordable properties in the community start around $1.5 million, with top homes nearly doubling that amount. For their money, residents enjoy luxury homes with 3,000–6,000 square feet of living space and spacious lots that carefully integrate the natural environment. Homesites in the area over an acre can be found for around $200,000, with the HOA around $33 per month.
Hound's Run Amenities
Spacious, private lots
Radnor Lake State Park
Otter Creek Park
Richland Country Club
Convenient to Interstate 65
Deerwood Arboretum
Burlington
Burlington—named for the noteworthy 1930s mansion that once defined the area—is a high-end community in Nashville's Green Hills neighborhood. The area's historic, stately heritage shines through in both the local homes and spots like the nearby Belle Meade Historic Site and Winery, which dates back to the mid-1800s.
It's also just around the corner from one of Nashville's most iconic music venues, The Bluebird Cafe, which hosts shows from both big-name and up-and-coming local artists. In addition, one of the city's best malls is just down the road. The Mall at Green Hills includes luxury retailers alongside more typical mall stores, combined with a diverse mix of dining options.
While properties in Burlington are exclusively single-family detached homes, they vary widely between modest options and luxury choices. Two and three-bedroom homes typically range from $1 million to just over $1.5 million. The area also offers an extensive selection of expansive, high-end estates—built by some of Nashville's most popular home builders—that regularly reach $2–4 million. These often include gorgeously landscaped backyards, light-filled interiors, and top-quality finishes and appliances. Burlington's HOA fee averages around $25 per month.
Burlington Amenities
The Mall at Green Hills
Woodmont Park
Belle Meade Country Club
Lighthouse ArtSpace Nashville
Low-Fee Nashville Neighborhoods to Call Home
Across Nashville's real estate landscape, low HOA fees can be a welcome respite for budget-conscious homebuyers. These specific neighborhoods not only provide the benefits of an HOA at a lower cost but also allow residents and homebuyers moving to Nashville to tap into the city's intrinsic value and character. While HOA fees are just one component in the home-buying decision, knowing where they are lowest can guide prospective buyers to make informed choices, ensuring that the rhythm of life in this iconic city doesn't miss a beat.
If you're excited by the opportunities in Nashville, contact the Ashton Real Estate Group of RE/MAX 1st Advantage with TNRealEstate at (615) 301-1650 to get in touch with our experienced team of real estate agents and discover the perfect Nashville home for you today.