8 Most Walkable Neighborhoods in Nashville, TN: Step Into Urban Bliss
Posted by Gary Ashton on Tuesday, August 1, 2023 at 2:41:59 PM
By Gary Ashton / August 1, 2023
Comment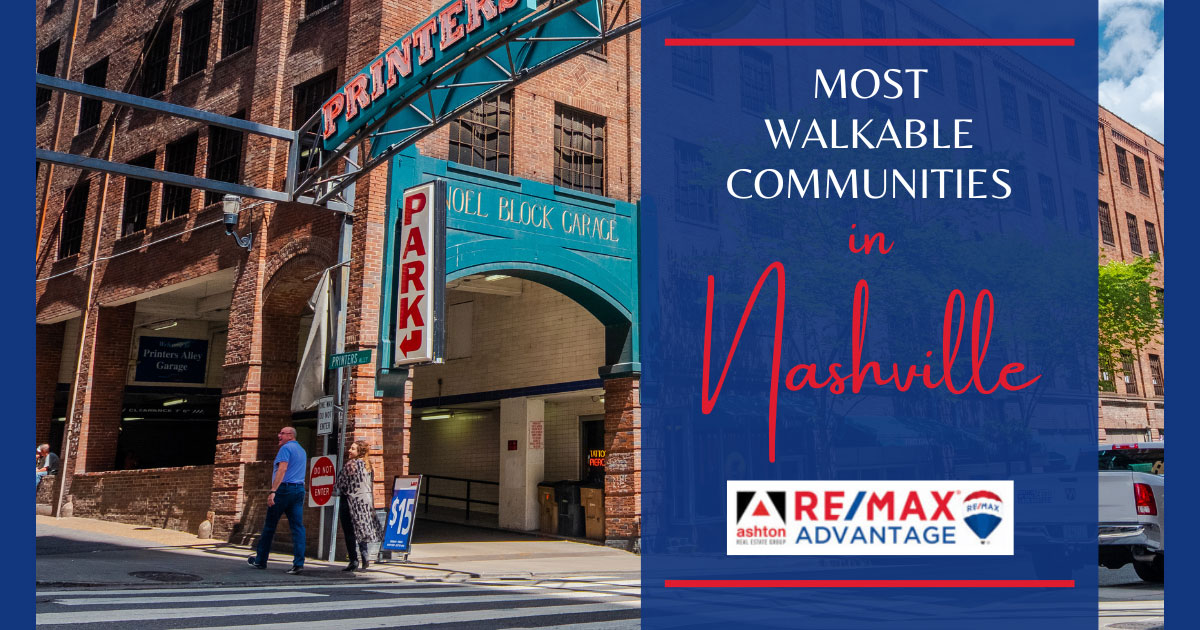 Explore Nashville's most walkable neighborhoods, where location and convenience meet charm. Discover eclectic shops, cozy cafes, and vibrant entertainment venues on foot as you wander through these dynamic districts. It's no wonder many of these communities are also considered some of the best neighborhoods in Nashville! In the heart of Music City, you can experience the untamed rhythm of Nashville's best walkable neighborhoods and unlock a world of possibilities at your own pace.
Historic Edgefield
Historic Edgefield has certainly earned its place on the National Historic Register. Like East End, the neighborhood is part of the acclaimed East Nashville area.
Historic Edgefield officially became a part of Nashville in 1880, and many of its original stately 1800s-era mansions are still standing today, allowing Nashville residents to acquire their very own piece of history in a historic Nashville home. Even as the area has grown to include more duplexes and apartments, Edgefield maintains its historic charm.
Historic Edgefield is located in East Nashville. Like several other Nashville neighborhoods, there are over 50 restaurants all within striking distance of many Edgefield condos or townhomes. One local favorite is Sky Blue Cafe. The service is excellent, and the portions are massive, but be ready for a little bit of a wait at this hoppin' spot.
It's always tea time at High Garden in Historic Edgefield. The connoisseurs at this earthy shop infuse their love for all things herbs into every tea bag in a sustainable, environmentally-conscious way. A husband-and-wife team runs High Garden and crafts seasonal tea blends customers can enjoy year-round.
Real estate in Historic Edgefield heavily features Victorian homes in styles like Queen Anne and Eastlake. Home prices in the area tend to start at around $1 million but can increase to $3 million or more for well-maintained historic mansions.
Historic Edgefield Amenities
East Park
East Nashville Farmer's Market
McMenamins Historic Edgefield Amphitheater
Access to 1-24 and US 41
East Nashville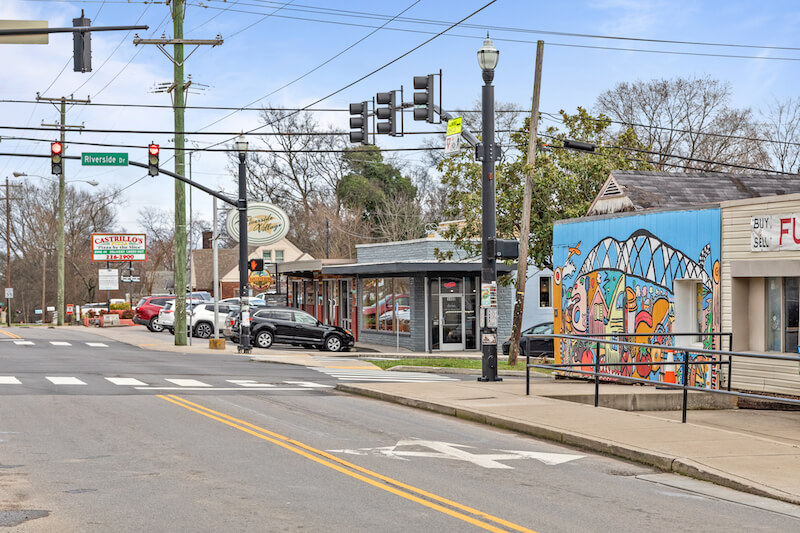 East Nashville is ideal for those looking to strike the perfect balance between hip and historic. It resides on the opposite side of the Cumberland River from downtown Nashville. The area is brimming with buzzy new shops and restaurants, most just a short walk from the historic, early-1900s homes.
As part of the larger Nashville East, the East End neighborhood is a short walking distance to the Five Point neighborhood. The Five Points area is a walkable world tour. From seafood and Mexican food to German beer, the East End has no shortage of delicious cuisine. However, the food scene is just the tip of the iceberg.
There is also no shortage of outdoor activities at your fingertips when you live in East Nashville. Stroll over to Shelby Park to find a full-on urban oasis. The park has playgrounds, prime birdwatching spots, and multiple lakes and ponds for fishing and boating. If you're an avid golfer, there's an 18-hole golf course.
Real estate in East Nashville typically ranges in price between the upper $200,000s for smaller single-family homes and condos like Solo East to around $2,500,000 for high-end luxury homes.
East Nashville Amenities
Cumberland River
Shelby Park
Interstate access
Cleveland Park
Hiking trails
Germantown
Germantown is another walkable neighborhood modeled after European cities. Just north of downtown Nashville, the amenity-rich neighborhood emphasizes mixed-use development.
Germantown is one of Nashville's oldest neighborhoods, and brick sidewalks and distinct European-style architecture dominate the landscape. Combined with the historic charm, the neighborhood is also home to several of the city's most coveted hotspots, making it a walkable haven.
Watering hole Mother's Ruin is a prime place to grab a cocktail as you soak up the sights and sounds of Music City. Brunch is served daily until 4:00 pm, so there's plenty of time to grab some French toast strips or breakfast burritos. If you're craving a late-night meal, Cholula honey wings or Creole shrimp rolls are two popular options.
Educational, free, and walkable perfectly sums up the Tennessee State Museum. Visitors can learn all about Tennessee's history, starting with its natural origins through its present-day position as one of the most iconic Southern states. The museum's exhibits showcase replicas and original artifacts from the Revolutionary War, as well as Tennessee's role in the Civil War and Reconstruction eras. Beyond the exhibits, the museum also hosts regular, free special programs, such as games and hands-on history programs for all ages.
Real estate in Germantown starts at around $800,000 for condos and small single-family homes but can easily increase to over $1 million for larger single-family homes and luxury condos.
Germantown Amenities
Close to downtown Nashville
Nashville Farmer's Market
Historic homes
Cumberland River Greenway
12 South
12 South is a shopping destination. At nearly every corner, there's an independent boutique or homemade shop. Unsurprisingly, this super walkable neighborhood is best known for its half-mile stretch of all kinds of small businesses and commercial properties. While 12 South may be small, it has oversized creative energy, lending to a vibrant environment.
Keeping with that vibe, Imogene + Willie is one of the hottest spots in the neighborhood. An abandoned gas station is probably not the first place you think of for clothes shopping. This little boutique sells everything from custom jeans to graphic tees and home accessories. Most of Imogene + Willie's products are made in-house by hand, so trust that you're getting the highest quality goodies available.
It's not a trip to Nashville without some authentic barbeque. Luckily, a 12 South favorite Edley's Bar-B-Que dishes up slow-smoked meats all day. If you can't decide on one thing (or even two!) from the menu, order one of the samplers. The samples feature three meats and four sides.
If you want to live in this vibrant neighborhood, homes in 12 South typically land on the market at prices between $350,000 to $1,500,000. However, higher-end properties can list for well over $2 million.
12 South Amenities Amenities
Sevier Park
"I Believe in Nashville" Mural
Restaurants and boutique shops
Belmont-Hillsboro
Belmont-Hillsboro might make you feel like you're back on your old college stomping grounds. And in a way, you are, because Belmont-Hillsboro is near Vanderbilt and Belmont Universities. It's a highly walkable neighborhood with lively energy and no shortage of things to do within walking distance.
The Belmont-Hillsboro neighborhood also houses stately historic homes. The neighborhood is home to Belmont Mansion, the largest home in all of Tennessee that was built before the Civil War.
Aside from the historic homes, many people come to Belmont-Hillsboro specifically to go to The Gallery of Iconic Guitars (The GIG) at Belmont. Operated by Belmont University, it's home to some of the oldest and coolest guitars around. A grandson of prolific Broadway composer Jerome Kern donated the extensive guitar collection to the museum, where he knew it would be appreciated by music lovers for years to come.
Fit Factory is a high-intensity gym where fitness enthusiasts exercise and take rigorous classes that push them to the limit. Patrons can sign up for a regular class or pop in 10 minutes before one starts to see what it's all about. All skill and experience levels are welcome, and Fit Factory also holds time every day for open gym.
Real estate in Belmont-Hillsboro is comprised almost exclusively of luxury homes, and most homes list for at least $1 million, though homes in the upper $800,000 and $900,000 range sometimes crop up.
Belmont-Hillsboro Amenities
Walkable
Close proximity to 12 S
Belcourt Theater
Belmont Mansion
The Gulch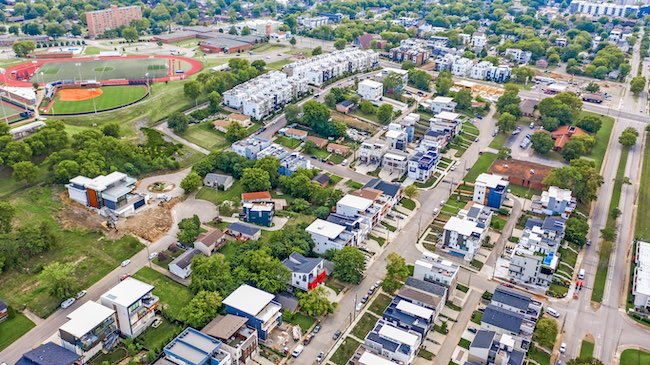 The Gulch neighborhood resides between downtown Nashville and Music Row. What once was an abandoned industrial area is now an upscale, walkable neighborhood with a rich history and captivating culture. The Gulch neighborhood includes boutique hotels, Instagrammable murals, and must-try culinary experiences.
The Gulch is home to Kelsey Montague's famous "WhatLiftsYou" wings mural. Visit the popular selfie spot on 11th Avenue South. To avoid heavy crowds, check it out early in the morning or on weekdays.
While the Gulch neighborhood is overall walkable, commuting residents can enjoy close proximity to I-40 and I-65.
Condos in the Gulch range in price from the mid- to upper-$400,000 range to over $5 million and make up all of the real estate in this neighborhood. As the first LEED-certified community in the south, the Gulch is popular because of its eco-friendly footprint and sustainable construction style.
The Gulch Amenities
Live music venues like Rudy's Jazz Room, Gibson Garage, and the Station Inn
Quick walk to Broadway
Trendy atmosphere
Industrial charm
Downtown Nashville
It doesn't get much more walkable than downtown Nashville. Everything sounds sweeter while wandering these streets on foot, stopping every few doors to check out the many little shops, restaurants, music venues, and museums. Downtown Nashville is densely packed, home to nearly 350 businesses, countless luxury condos, and townhomes.
Many visitors come for the honky-tonks on bustling Broadway, but locals know the most authentic experiences lie just beyond. The story of country music is not complete without a trip to the Country Music Hall of Fame. The Country Music Hall of Fame pays tribute to country music artists from the past and present with world-class exhibitions.
Of course, no trip downtown is complete without live music. Considered "music's most iconic stage," the Ryman Auditorium is best known as the original home of the Grand Ole Opry. The Grande Ole Oprey has since relocated to Music Valley, about 12 miles from downtown Nashville. However, you can still tour the Ryman Auditorium, stand on the iconic stage, and attend performances.
Downtown Nashville real estate is made up of everything that makes Nashville Nashville, with historic buildings, cultural landmarks, and iconic businesses on every street. Buyers have their choice between downtown condos and single-family homes, with plenty of luxury condos available for those who want to live a high-end lifestyle. Condos list from prices as low as the mid-$300,000s, while higher-end homes regularly list for $2,000,000 or more.
Downtown Nashville Amenities
Walkable and lively
Country Music Hall of Fame and Museum
Ryman Auditorium
John Seigenthaler Pedestrian Bridge
Lower Broadway
Midtown
If you thought Midtown Manhattan was walkable, just wait until you see Midtown Nashville. Adjacent to Music Row, Midtown is just far enough from Downtown and The Gulch to enjoy a bit less hustle and bustle. Its reputation as a bar hopper's paradise is well-earned.
If you want to look the part, step into the clothing store Any Old Iron on Music Square South. Slick and sparkly suits are all the rage here—you'll leave looking like you're ready to make your runway debut. That makes perfect sense, considering the boutique has dressed stars like Taylor Swift and Cher.
The Great Outdoors lies just beyond Midtown's vibrant bars and restaurants. If you're into fishing, make a pitstop at Fly South. This fly fishing shop carries dozens of brands and hundreds of products, from rods and bait to hats and jackets. The fishing enthusiasts at Fly South are happy to provide you with all the gear you need for a day on the water, but they're even happier to take you on a trip right here in Middle Tennessee. They offer full-day and half-day guided tours on several local bodies of water.
Real estate in Midtown lists for a median price of around $700,000, with affordable homes and condos starting at $300,000 and luxury homes listing for at least $1 million.
Midtown Amenities
Music Row
Vanderbilt University
Restaurants and bars nearby
Several outdoor festivals
Stretch Your Legs in Nashville's Best Walkable Neighborhoods
Elevate your living experience in Nashville's walkable neighborhoods, where the city's heartbeat is right at your doorstep. From downtown's bustling energy to local market charm, each neighborhood offers a unique tapestry of experiences where you can make living in Nashville a unique and memorable experience. Embrace the walkable lifestyle and let Nashville's rhythm guide your every step.
If you're excited by the opportunities in Nashville, contact the Ashton Real Estate Group of RE/MAX 1st Advantage with TNRealEstate at (615) 301-1650 to get in touch with our experienced team of real estate agents and discover the perfect Nashville home for you today.