Music City's Most Luxurious: Top 7 Expensive Neighborhoods in Nashville
Posted by Gary Ashton on Wednesday, May 3, 2023 at 12:57:33 PM
By Gary Ashton / May 3, 2023
Comment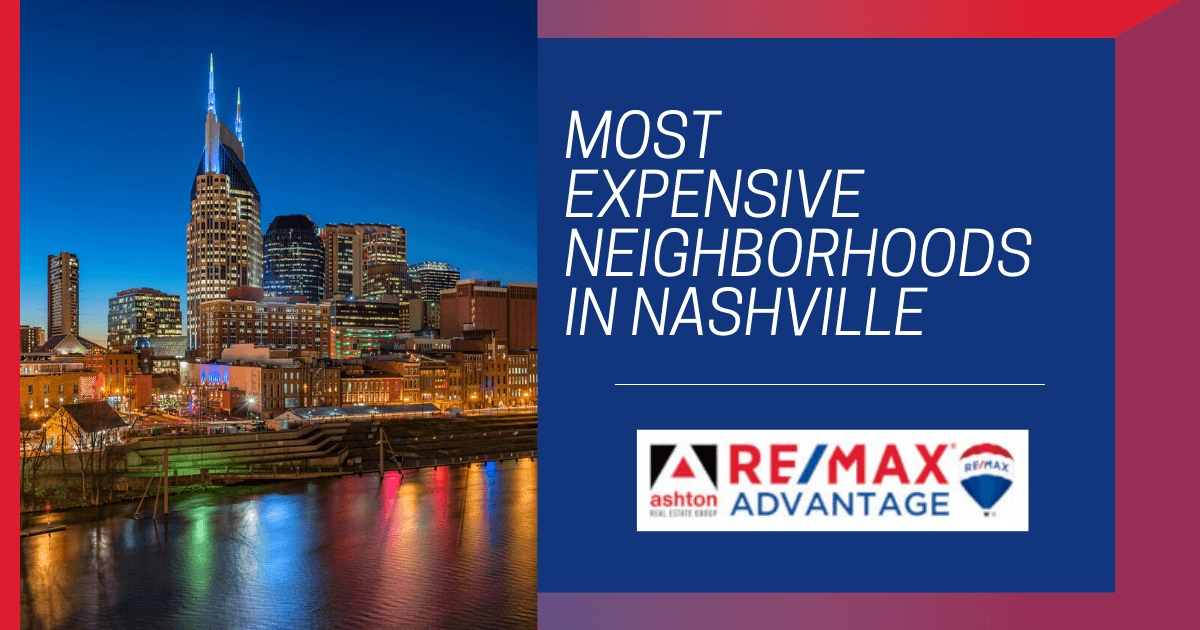 The city of Nashville, TN, has a rich history and exciting culture. It is home to a vibrant music scene, delicious cuisine, and some of the most expensive neighborhoods in the country. From Belle Meade to Green Hills, these neighborhoods are known for their luxurious homes, stunning views, and proximity to high-end shopping and dining. Whether you're a local or considering moving to Nashville, this post will give you a glimpse into the most exclusive areas in Music City.
Forest Hills
Forest Hills is a community at the edge of Nashville that lives up to its name, with a rolling, leafy character and some of the area's top homes. The compact, almost entirely residential area is centered around US Route 431/Hillsboro Pike and is bounded by Old Hickory Boulevard on its southern end.
The area's parks are undoubtedly the top attraction, including Radnor Lake State Park. Residents can hike, birdwatch, canoe, or soak in the gorgeous central Tennessee scenery here. Golfers will also be delighted by the multiple nearby courses, notably Richland Country Club. Despite this peaceful setting, the heart of Nashville is just ten miles away, providing residents with the best of all worlds.
Homes in Forest Hills consist exclusively of high-end detached single-family properties. Many are spacious, with four to seven bedrooms spread across 5,000–10,000 square feet of living space. Would-be buyers can find homes starting at around $1 million. These typically top out in the $5–$6 million range, though occasional ultraluxury homes can reach nearly $10 million. The community's share of Nashville's vacant land and lots sell from just north of $200,000 to as much as $2–$3 million, providing idyllic settings for those looking to build their dream homes.
Forest Hills Amenities
Radnor Lake State Park
Percy Warner Park
Richland Country Club
Sequoia Swim & Tennis Club
Vanderbilt Dyer Observatory
Belle Meade
Those looking for a green, historic community convenient to central Nashville should explore Belle Meade. It's located southwest of town, straddling Belle Meade Boulevard/Chickering Road. Technically a separate city, the town occupies just over three square miles around Belle Meade Historic Site, which was established in the area in the early 19th century. Today, it hosts various public and private events and operates one of the Nashville area's best wineries.
Belle Meade is also adjacent to the popular Warner Parks, a favorite local destination for hiking, mountain biking, horseback riding, picnicking, and numerous sports, including golf. Meantime, residents are also close to the extensive shopping right next door in Green Hills.
Buyers looking in Belle Meade will mainly find luxury single-family homes supplemented with limited townhouses. The Nashville townhomes in Belle Meade list from around half a million to a million dollars for two- or three-bedroom units. Occasional single-family homes sell from approximately $1 million, though most homes in Belle Meade list from $2 million; the area's one-of-a-kind luxury mansions can reach as high as $7-8 million. These can top 10,000 square feet with as many as eight bedrooms.
Belle Meade Amenities
Belle Meade Historic Site and Winery
Percy Warner Park
Belle Meade Country Club
Kever Park
Parmer Park
Green Hills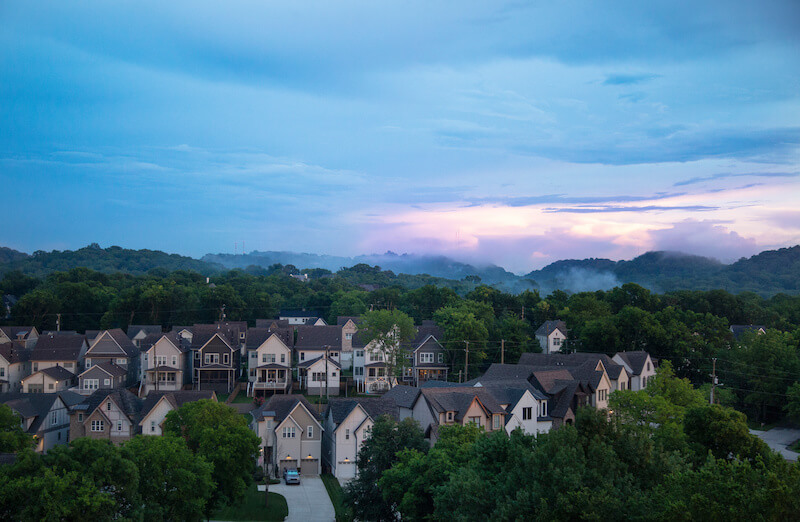 The tree-lined streets of Green Hills present a distinct difference from the more urbanized areas just north, including downtown, which is barely five miles away. Green Hills may be best known for the bustling Mall at Green Hills, packed with high-end stores and restaurants of all kinds, along with a movie theater, nearby hotels and medical facilities, and more.
The neighborhood is also home to the popular live music venue The Bluebird Cafe, which has hosted big names in country, rock, pop, and other musical styles. The area is also closely identified with Lipscomb University, which has operated since the late 1800s. It's also convenient for Vanderbilt and Belmont University community members, both of which have campuses a short distance away.
Green Hills homes consist of condos, townhomes, and single-family detached properties; some of the area's attached homes are mentioned among Nashville's best townhome communities. Attached homes provide the more affordable options, starting in the $300s but reaching as high as $3 million. Detached homes for sale in Green Hills can typically be found from the $700s, with luxury or new construction choices in the $4-5 million range as the top end. While most of Green Hills is developed, some vacant homesites can still be found, usually from $600,000-$800,000.
Green Hills Amenities
The Mall at Green Hills
Lipscomb University
Convenient to 440 Parkway, Interstate 65
Green Hills Park
Elmington Park
Woodmont Park
Ascension Saint Thomas Hospital West
Hillwood Estates
Set near a bend in the Cumberland River on Nashville's west side, Hillwood Estates offers residents quite a bit in this compact, mixed-use neighborhood. The community's western edge is filled with extensive shopping opportunities at the Hill Center shopping complex, ranging from supermarkets and big box stores to chain restaurants and local eateries like Pho T & N and Hillwood Pub. This area is also adjacent to Interstate 40 and US Route 70, allowing residents easy commutes into downtown or around the region.
Further east, the neighborhood becomes primarily residential and is one of the great Nashville neighborhoods with ranch-style homes. This area is also home to the Hillwood Country Club, which provides an 18-hole championship golf course, tennis facilities, pools and fitness centers, and more.
Homes in Hillwood Estates are primarily single-family detached properties, though they can vary dramatically in style and size. Some more modestly sized, older single-story homes sell from half a million and up. However, most Hillwood Estates homes sell from $1.5-4 million, often including four to six bedrooms and 4,000-7,5000 square feet of living space. A limited number of condos can also be found from around $600,000, while lots and homesites list from the high six figures to just over a million.
Hillwood Estates Amenities
HG Hill Park
Hill Center shopping mall
Hillwood Country Club
Convenient to Interstate 40, US Route 70
Sylvan Park
Sylvan Park is located in southwest Nashville, just across the 440 Parkway from Centennial Park and Vanderbilt University. The tree-lined residential portion of the neighborhood is sandwiched between two of the community's other top features: the thriving commercial corridor along Charlotte Avenue and the McCabe Park complex. The former offers a variety of shops, restaurants like the old-school Wendell Smith's Restaurant, and Richland Park, a popular green space that also hosts a beloved farmer's market.
On the opposite side, McCabe Park provides sports fields, a community center, and an affordable 27-hole public golf course. There's also an active neighborhood organization, allowing residents to get to know their neighbors at a variety of events and also work to improve their community.
Single-family detached homes are the most common housing style in Sylvan Park, available in a diverse selection of designs and both one- and two-story styles. They're supplemented by a few condos, which provide the area's most affordable choices, selling from the low $300s to the mid-$400s for one- or two-bedroom units. Detached homes in Sylvan Park start around half a million but can frequently reach $2 million for large or newly renovated or built homes.
Sylvan Park Amenities
Richland Park
McCabe Park
Richland Creek Greenway access
The Nashville Opera at The Noah Liff Opera Center
Convenient to Interstates 40, 440, and US Route 70
Nashville Public Library Richland Park Branch
West Meade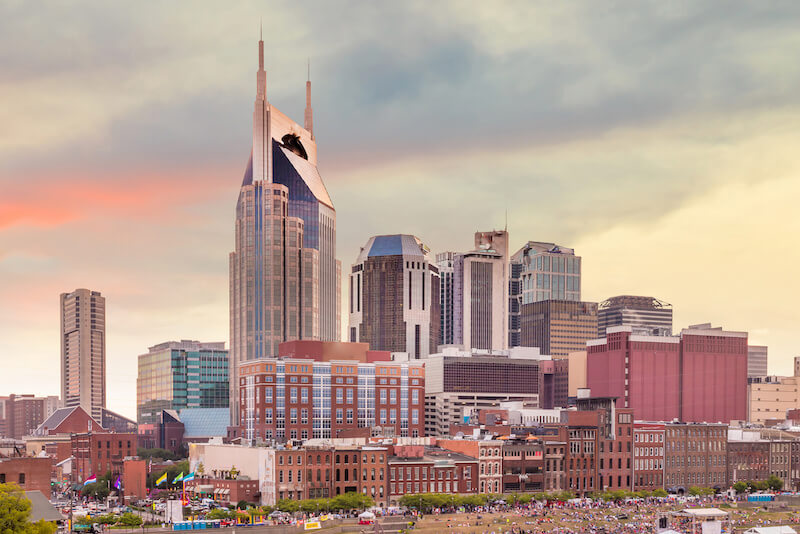 The hilly, wooded neighborhood of West Meade is another almost entirely residential community in southwest Nashville, located between Highway 100/US Route 70S and Interstate 40, south of Davidson Road. Besides the gorgeous homes, most of the community's amenities and businesses are located on its west side, including a handful of shops and restaurants like Sam's Place and others in and near Harper Hills Plaza Shopping Center.
Meanwhile, residents are just a short drive from shopping complexes and entertainment along the Cumberland River, including the well-known Ray Stevens CabaRay Showroom music venue. They can also enjoy the many parks, golf courses, and other things to do in nearby Belle Meade and Hillwood.
West Meade offers would-be buyers almost exclusively single-family detached homes. They run the gamut from compact two-bedrooms of less than 1,500 square feet to sprawling five- or six-bedroom estates of nearly 7,000 square feet. Some of these also include spacious lots of an acre or more. Homes for sale in West Meade start in the high $300s, though top-end homes can reach well into the $3–$5 million range.
West Meade Amenities
Convenient to Interstate 40
Percy Warner Park
Harper Hills Plaza Shopping Center
The Adventure Park at Nashville
Belle Meade Animal Hospital
The Gulch
Those looking for an exciting, vibrant neighborhood close to all of Nashville's top attractions, from the bustling downtown to Music Row and the Vanderbilt University campus, should check out The Gulch. It's become one of the city's hottest areas in recent decades following a significant redevelopment. Today, it's filled with delicious restaurants serving diverse cuisines, coffee shops, bars, rooftop lounges, public art, and much more.
It's also filled with popular live music venues, including Rudy's Jazz Room and the Station Inn. The entire area is highly walkable, bikeable, and transit-connected, making it an ideal spot to travel anywhere in Nashville for work or play while leaving the car at home. However, The Gulch is also convenient to major highways like Interstates 40 and 65, making trips throughout the region just as easy.
As one of Nashville's denser communities, homes in The Gulch are almost exclusively condos and other multifamily buildings. These include numerous newly built high-rise developments, often rich in amenities like pools, fitness centers, grilling areas, community rooms, and more. Most Nashville condos in The Gulch range from one to three bedrooms spread over 600–1,600 square feet. Units start around half a million dollars but regularly reach $2 million on the top end.
The Gulch Amenities
Walking distance from downtown, Vanderbilt, Music Row, and more
Extensive shopping and dining options
Live music venues
Convenient to Interstates 40, 65
Music City's Exceptional Neighborhoods Await
Nashville, TN, has a reputation for being home to some of the most expensive neighborhoods in the country. From the luxurious mansions of Belle Meade to the high-end boutiques of Green Hills, these areas offer residents an unparalleled lifestyle. While the cost of living in Nashville may be steep depending on the neighborhood, those who spend more are rewarded with stunning views, educational options, and access to some of the city's best shopping and dining experiences. Whether you're a current resident or considering a move to Nashville, these neighborhoods are worth exploring for a taste of the high life in Music City.
If you're excited by the opportunities in Nashville, contact the Ashton Real Estate Group of RE/MAX 1st Advantage with TNRealEstate at (615) 301-1650 to get in touch with our experienced team of real estate agents and discover the perfect Nashville home for you today.