7 Energy-Efficient Landscaping Ideas
Posted by Gary Ashton on Thursday, March 24, 2022 at 2:37 PM
By Gary Ashton / March 24, 2022
Comment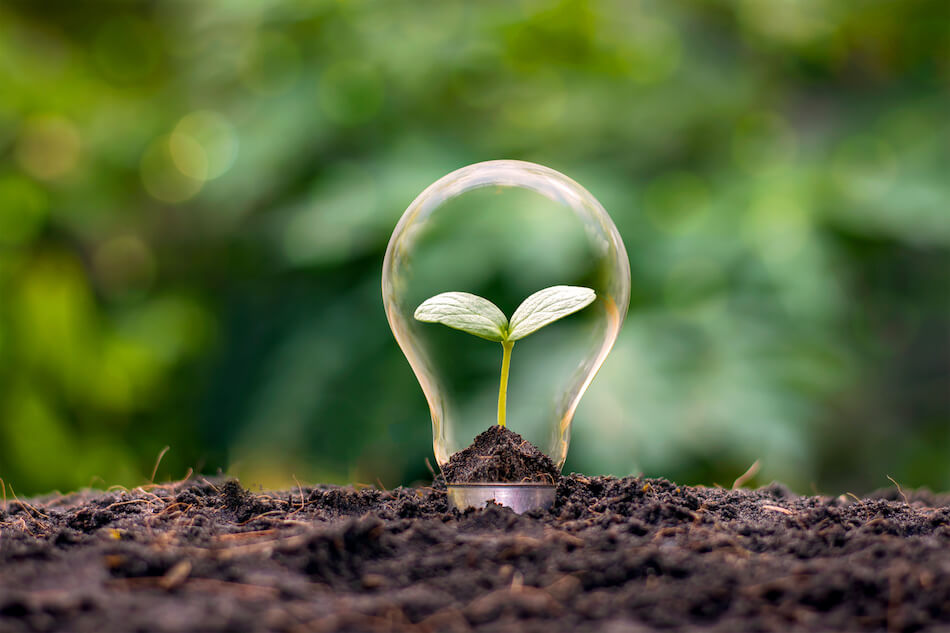 Did you know that your landscaping can increase your home's energy efficiency? It's true! Landscaping does more than add value to your home. Layering deciduous and evergreen trees, shrubbery, and outdoor hardscaping could knock trim noticeable savings from your monthly electric bill. Dig into your extra cash by using these energy saving landscaping tips.
Deciduous Trees: Broad, Leafy Trees Create Shade
Deciduous trees are categorized by their broad branches and lush, wide leaves. Sure, leafy trees mean you'll have to rake every fall, but the payoff is a shaded yard that stays cool all summer.
With Nashville's summer temps often reaching the low 90s, deciduous trees provide welcome relief. They block the sun's harshest rays from streaming through refracting glass windows. Shading the house prevents it from absorbing too much heat, which, in turn, keeps the air conditioner from having to work too hard.
Deciduous Trees to Consider
Large species like red and white oaks, southern magnolia, bald cypress, and sugar maples grow over 50 feet tall.
Medium height trees like saucer magnolia, black gum, and American yellowwood are under 50 feet tall and easier to keep pruned.
Smaller deciduous trees like crape myrtle, flowering cherry, and redbuds grow up to 30 feet tall.
Plant leaf-bearing trees in a half-circle around the southwest, east, southeast, and west sides of your house. Tall shrubs (viburnums, flowering forsythia, arborvitae, and American beautyberry) also provide shade.
Evergreens: Year-Round Leaves Means Year-Round Warmth
Evergreen trees are a great way to block cold winter temperatures and harsh winds from hitting the house. Planting a row of windbreak trees can save you up to 25% on your heating bill.
The downside? A pine tree's thick branches and needles may keep the sun's warming rays from streaming in. However, that'll help keep your house cooler in the winter.
Plant an arc of evergreens around the north and west sides of your house. Evergreens are easy to care for, especially helpful if you've purchased the house as an investment property.
Yard-Scaping: Only Use What You Need
You can also use your landscaping to conserve water as well as electricity. Nashville is at its wettest in May and driest in October. Planting native flowers and following a lawn watering guide will help reduce water usage and save you money on the utility bill.
Irrigation Systems: Water Smarter, Not Harder
Sprinklers and garden hoses are okay, but they're not very efficient when it comes to watering the grass. Irrigation systems for sod, gardens, shrubs, and trees are pipe networks that bring water directly to plant roots. Drip systems reduce or eliminate wasted water from scattered spraying, erosion, and evaporation.
Value Your Lawn: Grass Keeps You Cooler Than Gravel
You may be tempted to cut back on your water use by getting rid of your lawn. Keep in mind: your lawn absorbs heat in the summer. Some homeowners in drought-prone areas thought they'd save on their water bill by landscaping with rocks and gravel. Gravel and rock create a so-called "heat island" around your home, raising the temperature by 5 to 10 degrees and your electric bill by as much as 20%.
Vines As Insulation: A Stylish Choice That Saves
Thick-growing vines on fences, arbors, and trellises insulate homes against cold winter winds and scorching hot temperatures. Plant native Tennessee vines like Carolina jessamine, honeysuckle, and wisteria, which will bloom in different colors throughout the seasons.
Some vines, like English ivy, grow directly onto brick walls. But if you're tempted to grow them directly onto wooden house slats or fences ... don't. Wilting vines may prompt the wood to rot. It's easier (and cheaper) to replace a trellis than it is a wooden fence or siding!
Solar Lighting: Harness the Power of the Sun
Light up the perimeter of your home with solar sticks, fixtures, and garden lamps. Solar lights soak in the sun to create photovoltaic technology. With the sun providing the energy, you won't have to waste money on outdoor electric lights.
Keep in mind, solar lights need to be cleaned periodically so panels can draw in the sun's rays. Solar lights must absorb direct sunlight; cloudy skies may keep the lights from shining brightly.
Cutting back electricity usage around the house helps keep money in your checking account and is a plus for the environment. The landscaping on your property is more than a bunch of greenery ... it's proof that money does grow on trees.
Beautiful Landscaping Can Save You Money
These landscaping tips will help you save money on your energy bill while also keeping your home looking great. By using deciduous trees to create shade in the summer and evergreens to keep your home warm in the winter, you can make your yard work for you all year round. Additionally, by only using what you need and irrigating smarter, not harder, you can cut down on your water usage. And don't forget about your lawn – grass is cooler than gravel and helps insulate your home. Finally, consider adding some solar lighting so you can enjoy your yard at night without spending a penny. With these tips, it's easy to see how valuable a well-landscaped yard can be.