How to Avoid Nashville Traffic: Tips for Driving & Public Transit in Nashville
Posted by Gary Ashton on Tuesday, April 18, 2023 at 11:58:49 AM
By Gary Ashton / April 18, 2023
Comment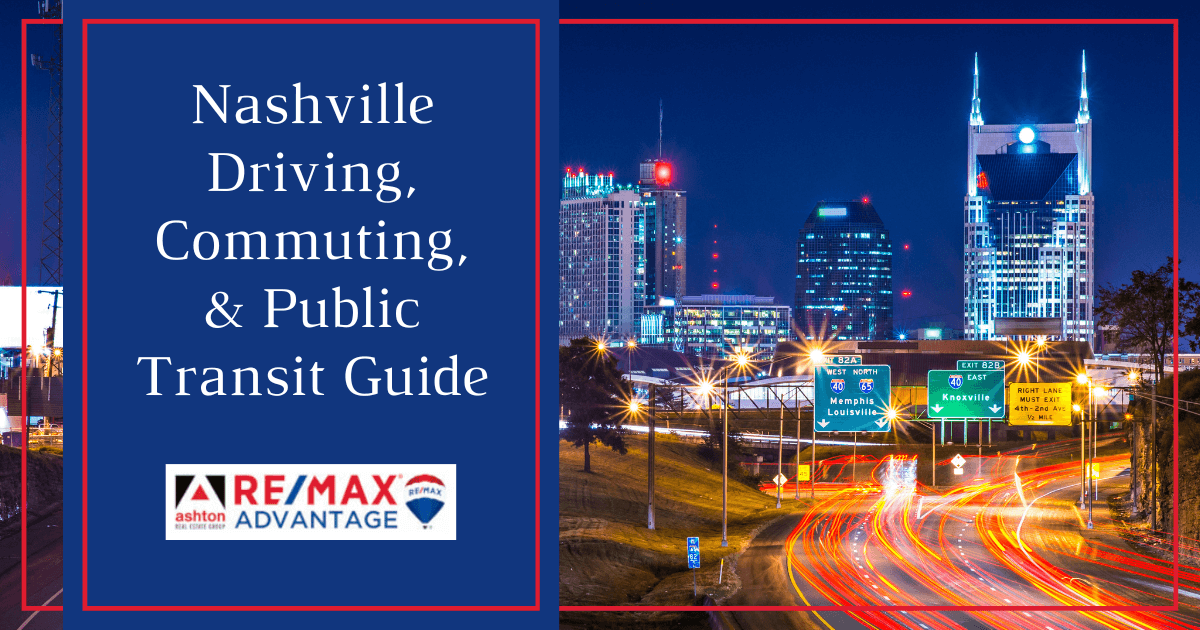 Nashville, TN, is full of sights to see, things to do, great employers, and more, and people of all ages flock to the city and its surrounding suburbs. One question people always have is, "How is the traffic?" It's a fair question since about 2 million people live in homes in Nashville and the metro area. Certain roads get congested during rush hour, but the many benefits of living in the city outweigh a little extra time in traffic. The city's WeGo buses and trains also provide options for those who don't own a car. Here's a closer look at driving, public transportation, and commute times in Nashville, TN.
Get to Know Your Major Nashville Roads
There are four major interstate highways running through Nashville, and anyone moving to Nashville will likely have to familiarize themselves with them.
I-24 is a north-south freeway that bypasses Downtown Nashville on the east side of the Cumberland River. This road continues into Kentucky to the north and Georgia to the southeast.
I-40 is an east-west freeway that runs through the downtown area. It continues to Barstow, CA, in the west and to the Atlantic Ocean in North Carolina to the east.
I-65 is a north-south freeway that bypasses Downtown Nashville to the west. This road connects the southern suburbs like Franklin and Brentwood to the city and continues north through major cities like Louisville, KY, Indianapolis, IN, and Chicago, IL.
I-440, also known as the "440 Parkway," bypasses Downtown Nashville to the south and west. It connects from I-24 on the city's east side, curves north around the downtown area, and links to I-40 west of downtown.
What to Expect Driving at Different Times of Day
Nashville is the nation's 21st most populous metro area, but it's not even in the top 50 regarding daily commute times (54th). About 80 percent of Nashville-area employees drive their own vehicles to work, so roads get congested during the morning and afternoon rushes. The morning rush hour lasts from about 7:00–9:00 a.m., and the afternoon rush is typically from 4:00–6:00 p.m.
The average commute time in Nashville is 25 minutes each way. Carpooling is one way to beat the rush hour traffic. There are high-occupancy vehicle (HOV) lanes available on all the main roadways, which are reserved for people carpooling. The HOV lanes tend to be wide open, and traffic moves much more smoothly there.
One thing to remember is that Nashville is one of the most popular tourist destinations in the United States. Many extra vehicles are on the roadways during the warmer months of the year, especially during the summer.
Parking in Nashville
Downtown Nashville uses a paid parking system, but it's relatively straightforward. The Park It Downtown website lists all available garages and lots in the city. There are numerous $5 and $10 parking options in the downtown area for people who want to take in Nashville's vibrant nightlife and special events.
There are also about 1,000 metered parking spots on the streets downtown. Parking costs $1.50 per hour in a metered space and can be used for up to two hours. Meters are enforced Monday through Saturday from 8:00 a.m. to 6:00 p.m.
Public Transportation in Nashville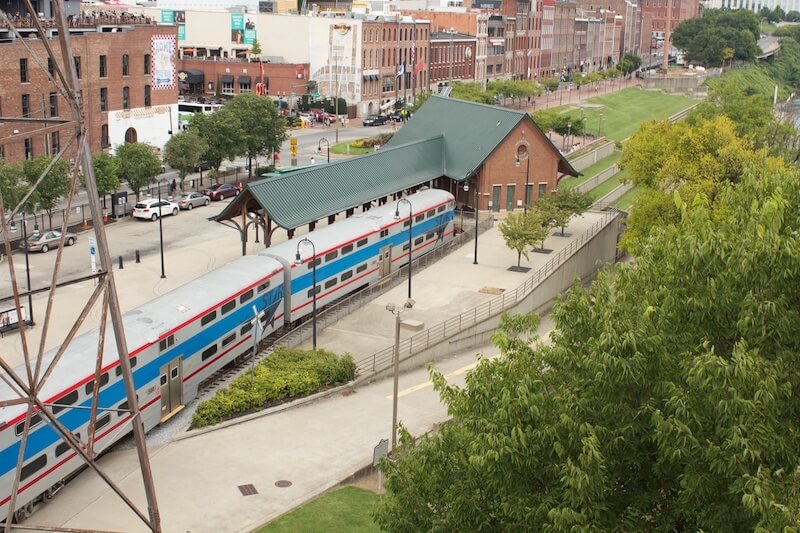 The public transit system in Nashville is called WeGo. The system operates more than two dozen bus routes and train rides connecting the suburbs east of the city to Downtown Nashville. Additional public transportation systems are also available, including free shuttle rides around town to popular destinations.
WeGo Buses
The WeGo Bus system operates 26 routes in the city and eight regional routes connecting to nearby counties. This bus system is a good option for people living in downtown Nashville condos or those commuting to work there. Frequent routes leave every 15 minutes or so on some of the most heavily trafficked roads in the city, such as the Nolensville Pike and Bordeaux. There are 14 local routes that run every 20 to 60 minutes throughout the day to destinations like the airport and Opry Mills. Four connector routes bypass Downtown Nashville and run through nearby neighborhoods. The different types of routes are color-coded:
Frequent routes: Red
Local routes: Purple
Connector routes: Grey
The WeGo system uses a smartphone app that makes it easy to pre-pay for bus fares, and there are also reloadable bus cards to make it quick and easy to get on and off without using cash or change. There are still fare boxes on every bus, which accept cash and coins.
WeGo Bus Fares:
2-Hour Pass: $2.00
One-Day Pass: $4.00
Seven-Day Pass: $20.00
20 Rides: $40.00
31-Day Pass: $65.00
One-Ride Regional: $4.25
20-Rides Regional: $73.50
Fares for Youths (19 and under) and Seniors (65 and older) are half the price of the above fares.
WeGo Train
Nashville's train system is called WeGo Star. The train connects the Riverfront Station in Nashville to several suburbs along the Eastern Corridor of the metro area. These connections include Donelson, Hermitage, Mt. Juliet, Martha, Hamilton Springs, and Lebanon. If someone from these outer suburbs rides a WeGo Star train to the Riverfront Station, they can connect to a WeGo Bus route to many other areas in Nashville. WeGo Buses are standing by when every Star train pulls into the station.
Tickets to ride the WeGo Star trains can be purchased at QuickTicketTN.com, the WeGo smartphone app, and the Riverfront Station. Youths, senior citizens, Medicare recipients, and disabled persons can apply for reduced fares on WeGo Star and bus rides. They must first apply for a Discount ID at the main WeGo website.
WeGo Star Fares:
Star fares are priced on proximity to the Riverfront Station in Nashville, as follows:
Donelson to Riverfront (1-Ride): $2.00
Hermitage: $4.50
Mt. Juliet: $4.75
Martha: $5.00
Hamilton Springs: $5.00
Lebanon: $5.25
Purchasing 10 rides, or a 31-day pass, is a way to reduce the one-way fares for riding WeGo Star trains.
Other WeGo Services
Many churches and businesses in the Nashville area provide their parking lots during off-hours for the city's Park & Ride program. People can park their cars for free and then hop on a bus route that runs past that parking lot regularly. Several Park & Ride lots are also in nearby suburbs, where express WeGo Bus service is offered to Downtown Nashville. Suburbs include the city of Murfreesboro, the town of Smyrna, Dickson, La Vergne, and more.
WeGo Ride is an employer-sponsored program that allows shuttle buses to transport employees to and from work for a reduced fare. Employers get a break on payroll taxes for using the service, and employees get to travel cheaper than using regular transit buses.
WeGo Access is a publicly funded service that provides disabled people with point-to-point rides within the Nashville area. Rides with WeGo Access must be booked at least 24 hours in advance and cost a flat fee of $3.70. Members can even take a taxi for that fare if no WeGo Access rides are available at the needed time.
Commute Times from Suburbs to Downtown Nashville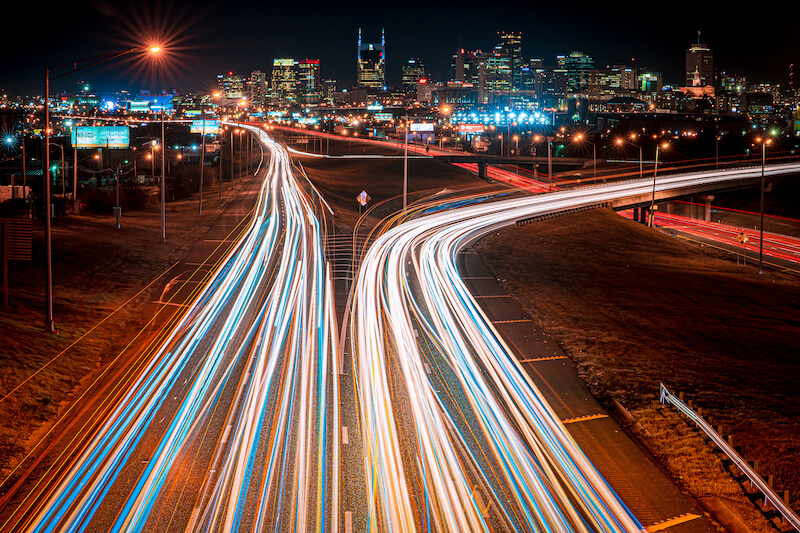 Suburban living in the Nashville area is part of what draws so many people to the area. They can live in a quiet community outside Downtown Nashville and enjoy a reasonable commute to and from work daily. Here are the typical routes and commute times from several suburbs to Downtown Nashville.
Brentwood
The luxury homes in Brentwood are known for being some of the most beautiful estates in the Nashville area. This community is located a little over 10 miles south of Downtown Nashville. The best route is to drive north on Interstate 65 from Brentwood, then take Exit 209 and turn right on Church Street. Follow Church Street the rest of the way into Downtown Nashville. This route takes less than 15 minutes during light traffic and up to 28 minutes during the morning rush hour.
Belle Meade
Belle Meade is a lovely suburban community of golf course homes and single-family residences southwest of Downtown Nashville. It is approximately a 9-mile drive from homes in Belle Meade to Downtown Nashville, which takes around 15 minutes during light traffic. The best route is to take Belle Meade Boulevard north to Harding Pike (Highway 70S) and then turn north on the I-440 Parkway. When I-440 connects with Interstate 40, drive south and take Exit 209B. Turn left on Church Street to travel to Downtown Nashville. This route can take up to 28 minutes during rush hour, with the heaviest traffic around Ascension St. Thomas Hospital West in the Cherokee Park neighborhood.
Franklin
Franklin is about 20 miles south of Downtown Nashville. Homes in Franklin cover all bases: some are great as starter homes, and there are also some larger horse properties with acreage here and some luxury estates. The most direct route to Downtown Nashville is traveling north on Interstate 65 and then taking Exit 209 to Church Street. The drive takes about 25 minutes during light traffic or up to 45 minutes during the morning rush.
Mount Juliet
Mt. Juliet is just under 20 miles to the east of Downtown Nashville. The drive to the downtown area from homes in Mt. Juliet takes just under a half-hour during non-rush hour traffic. The best route is to drive south from Mt. Juliet and get on I-40 westbound.
A commuter then has two options, and a smartphone app will generally let them know which route is quicker based on any accidents. One option is to stay on I-40, which intersects with Church Street to the west of downtown. The option that is usually faster is to take Exit 213 and turn left on Spence Lane and then right on Rosa Parks Boulevard. This street intersects with Church Street, very close to downtown. During rush hour traffic, the drive can take up to 55 minutes.
Nolensville
The town of Nolensville is a popular suburb about 22 miles south and east of Nashville. The fastest commute to the downtown area from Nolensville is to drive west on Concord Road and then turn onto I-65 northbound. Follow I-65 to Exit 209, then turn right on Church Street into the downtown. The drive takes about 28 minutes during non-rush hour traffic and up to 55 minutes during rush hour.
Other Things to Know About Driving in Nashville
The rules for high-occupancy vehicle (HOV) lanes are in effect during rush hour times from 7:00–9:00 a.m. and from 4:00–6:00 p.m. Vehicles using the HOV lanes in Nashville must have two or more people in them to qualify as carpoolers. If it's outside those enforcement times, anyone can drive in the HOV lanes, which tend to be faster.
Tennessee has stringent laws against texting on a cell phone while driving. Motorists are not even allowed to hold a cell phone in their hands while driving, no matter the reason.
Nashville gets an average of about 119 days of rainfall per year. When it's raining, drivers must turn on their headlights (but not their hazard lights). It's also expected that commuters should drive slower than the posted speed limits during a rainstorm, to prevent hydroplaning or other types of accidents.
Getting to Know the Way Around Nashville
Many interstate highways weave through Nashville's best townhome communities and business districts rather than driving straight through them. This can confuse newcomers as they learn their way around the city. Fortunately, commuters can learn the routes in, around, and through Nashville to get to and from work, nightlife, and special events. With just a few months' practice, commuters get used to driving around Nashville and become much more comfortable in this great city.
If you're excited by the opportunities in Nashville, contact the Ashton Real Estate Group of RE/MAX 1st Advantage with TNRealEstate at (615) 301-1650 to get in touch with our experienced team of real estate agents and discover the perfect Nashville home for you today.