What Is a Ranch Style House? 4 Common Traits of Ranch Style Architecture
Posted by Gary Ashton on Tuesday, February 22, 2022 at 11:40 AM
By Gary Ashton / February 22, 2022
Comment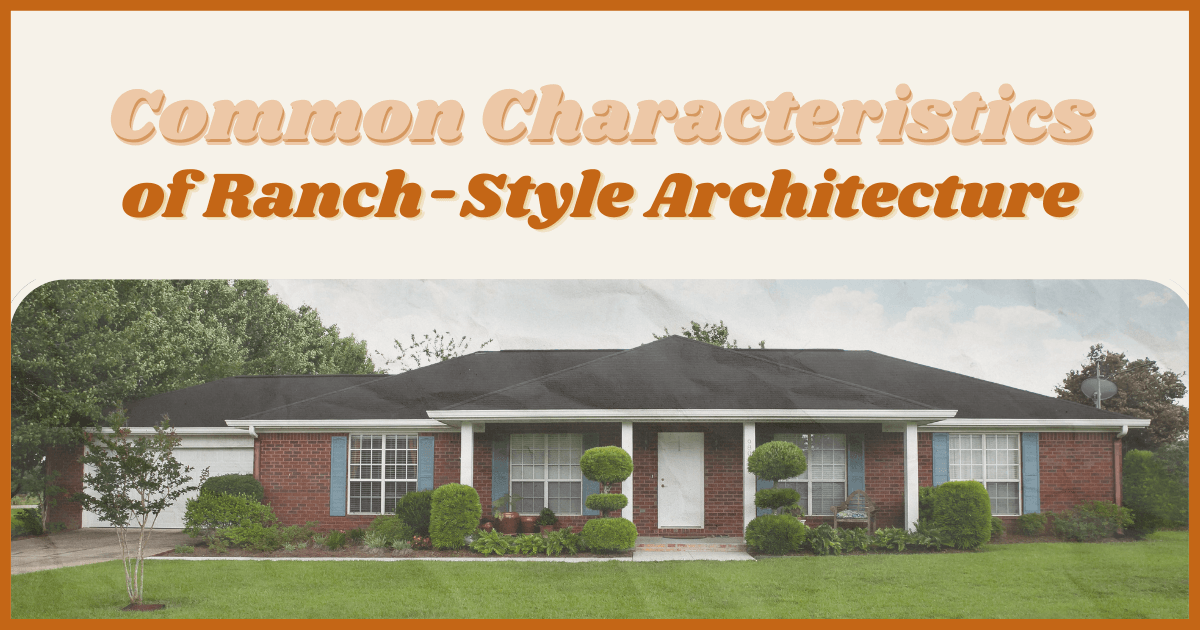 Ranch-style homes began cropping up in California in the 1920s when the Colonial Revival movement was the hottest real estate available. Simultaneously, Craftsman-inspired homes were popular with architects. These styles were traditional, with a typical rectangular shape and smaller rooms.
As more home buyers were seeking a change, the rise of ranch-style homes was rapid. Today, ranch-style properties are making a solid comeback, and not necessarily on ranches, but rather in the suburbs and master-planned communities across the nation. Read on to learn the common characteristics of ranch-style architecture.
The History of Ranch Architecture
Ranch style was dubbed as "ranch" or "rambler" due to the dominance of open floor plans, low-slung roofs, and their sizeable horizontal shape similar to the homes of true cattle ranchers in the west. Ranch-style homes are a sub-genre of modern-style architecture that embraces the best in indoor-outdoor living.
The architecture, inspired by California architect Cliff May, boasted deep rooms that opened to the outdoors and allowed warm breezes and plenty of natural lighting. Ranch-style homes were popular in the countryside for four decades, but they fell out of favor by the 1990s.
Today, ranch-style architecture is enjoying a return to popularity, and most of these homes are custom-built to appease the buyer's every whim.
Key Elements of a Ranch-Style Home
Before getting into details, here are a few of the predominant features one can expect to see in ranch-style architecture:
Single-story floor plans
Open floor plans
Sliding glass doors
Low-pitched rooflines
Attached garages
An "L" or "U" shaped layout
The lower profile of a ranch home is traditionally a single-story home, but some are split-level in design with a second half-story for additional quarters. Ranch-style architecture is recognizable for having a "U" or "L" shaped floor plan with generous sliding glass doors that often lead to a patio or deck.
There is an emphasis on backyard access that stays true to the nature of ranching. After a long day of working, ranchers and their families would take respite in the privacy of their backyards. Garages are usually connected or separated but joined by an over awning for protection from the elements.
Ranch Home Types
While there are quite a few spin-offs of ranch-style home architecture, the five most popular share a few common characteristics with a few features that make them distinctive.
California Ranch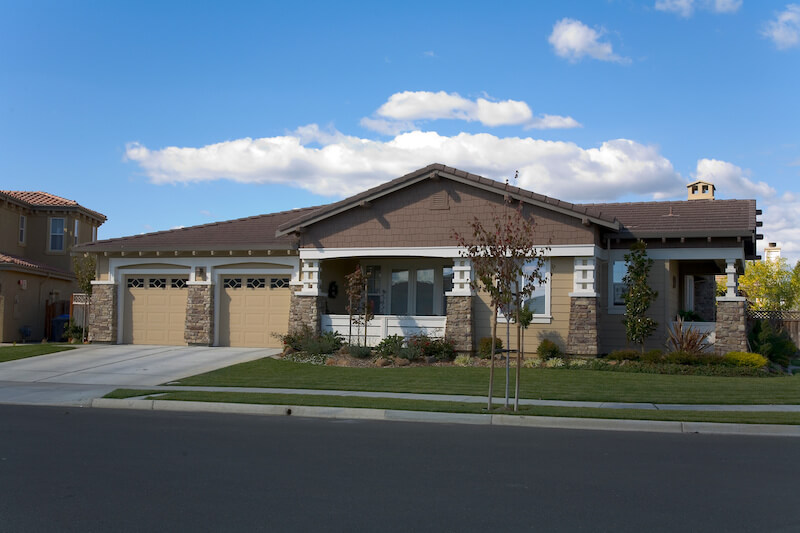 The California Ranch came about in the 1920s and is a functional and modern ranch house. These homes typically have a very open, airy, and simple design confluent with nature. They stay true to the "U" and "L" layout and almost always have a defined courtyard space in the middle of the home's backyard.
Still popular today for their functionality and generous space, buyers enjoy glass doors and large windows that offer cross ventilation into the home. Basic, casual, and forgiving, California Ranch homes are highly desirable.
Suburban Ranch
After World War II, the economy was strong and the population boomed, leaving droves of GIs and others ready to get into their own homes. Clever builders and designers found an affordable, accessible, and appealing solution: the Suburban Ranch house. These homes are very similar to a California Ranch, but they are typically more compact, making them the smallest ranch-style homes.
Suburban ranch architecture features open floor plans with minimal interior walls. The asymmetrical layout leaves plenty of room for large windows, sliding glass doors, and low-angled gable roofs along with front-facing garages. Today, this style is rapidly being re-embraced and appreciated by home buyers.
Raised Ranch Home Design
First popularized in the 1950s and 1960s, raised ranch homes are on a foundation designed for a basement and extra living space. They generally have two stories and a grand staircase that offers access to the top floor spaces.
The exterior architecture usually has shallow rooflines with deep overhanging eaves, patios or decks, stucco or masonry siding, and spacious back yards. These homes are cropping up in suburban and rural communities at record speeds.
Split-Level Ranch
Split-level ranch homes are similar to raised ranch architecture, as they have multiple floors and several sets of staircases that lead to various areas. They generally have three floors, a staggered living space, and massive rooms for gathering, along with quiet nooks for privacy.
Often referred to as a raised ranch home, split-levels typically offer impressive kitchens, grand bedrooms and baths, great rooms, and game rooms. The lower floors are typically where one will find the garage, recreation areas, or home gyms and sometimes a half-basement.
Storybook Ranch
The storybook ranch architectural style began in the early 1950s and eventually became the most prolific residential design of ranch-style homes in the nation. Most of these abodes were constructed in tract housing zones. Also known as Cinderella homes, the architecture of a storybook ranch home truly stands out due to its ornate design that boasts steeply gabled roofs.
There is usually a fairytale-styled decorative chimney and diamond-shaped shutter windows. Storybook ranches are mostly single-storied, have attached garages, scalloped fences, wall dormers, and catslide roofs. Those looking for whimsical detailing will adore storybook ranch-styled homes.
Looking for a Spacious Home That Goes Back to the Basics?
Ranch-style homes are likely to stay in favor for decades to come, as they are ideal for communal households, those who entertain routinely, and buyers who appreciate generous space to decorate their ranch homes and easy access to the great outdoors. With so many styles of ranch-style architecture and custom home options, homebuyers are sure to find a ranch home that meets and exceeds everything they want in a forever home.