5 Best Parks in Nashville, TN: Explore Shelby Park, Centennial Park & Others
Posted by Gary Ashton on Monday, September 11, 2023 at 1:19:44 PM
By Gary Ashton / September 11, 2023
Comment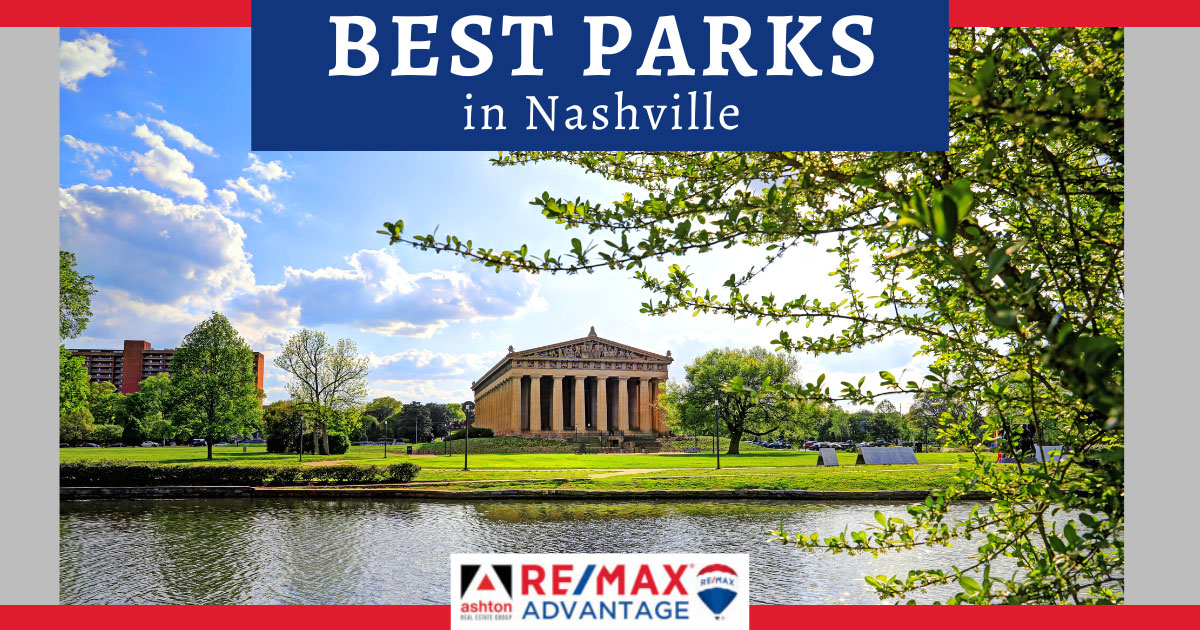 From Centennial Park to Shelby Park, the best parks in Nashville offer something for everyone—from hikers and bikers to birdwatchers and nature lovers. Even better, many of them are easily accessible from the city's most walkable neighborhoods. Whether you're looking for a peaceful stroll or an exciting adventure, you'll find it here in the city of Nashville.
Centennial Park
Centennial Park is one of Nashville's best attractions, offering visitors iconic landmarks like the Parthenon and a mile-long walking path. Discover historical monuments, explore art in the activity center, relax in the sunken garden, or take in performances at the band shell. There are plenty of activities to choose from, including volleyball courts, a dog park, a fitness trail, and an events shelter. Plus, there's a museum with interesting exhibits for all ages.
Every season brings something new to Centennial Park—festivals, markets, and outdoor concerts fill it with life and energy. Whether you're looking for a peaceful day outdoors or an exciting night out on the town, this park has something for everyone. With its stunning backdrop of lush green trees and tranquil lake views, it's easy to see why so many people flock to this location year-round. It's truly among the best Nashville parks.
Cumberland Park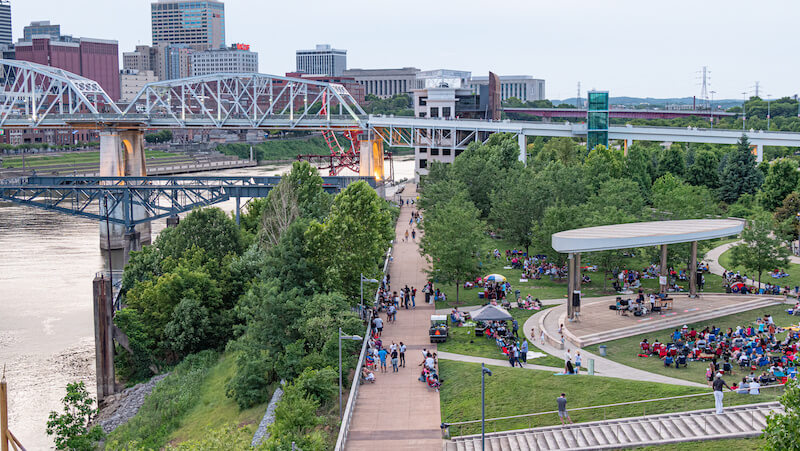 Cumberland Park is an exciting 6.5-acre destination in Nashville, offering creative play structures, water features, and an outdoor amphitheater with seating for up to 1,200 people. It's located between the Shelby Street Pedestrian Bridge and the Korean War Veterans Memorial Bridge and is part of the larger Riverfront Revitalization Plan.
Kids will love the interactive water play zones with spray features—not to mention the gravel-based Explorer Trail and The Gorge climbing wall. In addition, the newly installed elevator and stairs provide convenient access to the Shelby Street Bridge. Whether you're looking for a place to cool off on a hot summer day or want to watch live music at its outdoor amphitheater, Cumberland Park is a great place to be.
The Warner Parks
Situated just nine miles from downtown Nashville, the two Warner Parks are a sprawling 3,100-acre oasis of fields and forests listed on the National Register of Historic Places. The two parks, individually known as Edwin Warner Park and Percy Warner Park, are managed by Metro Nashville Parks and Recreation Department and have become one of Tennessee's most popular destinations.
At the Warner Parks, you'll find amenities like the Nature Center, picnic areas, a dog park, picturesque drives and viewpoints, hiking paths, mountain biking trails, equestrian facilities, cross-country running tracks, golf courses, and sports fields. With so many things to do, the Warner Parks attract nearly a million visitors each year!
Go on a scenic drive through its winding roads or explore the many trails available for hikers and bikers alike. If you'd prefer to take things slow, relax in one of its lush green spaces while taking in all that nature offers. Whatever your preference, the Warner Parks will surely provide that perfect getaway.
Bicentennial Capitol Mall State Park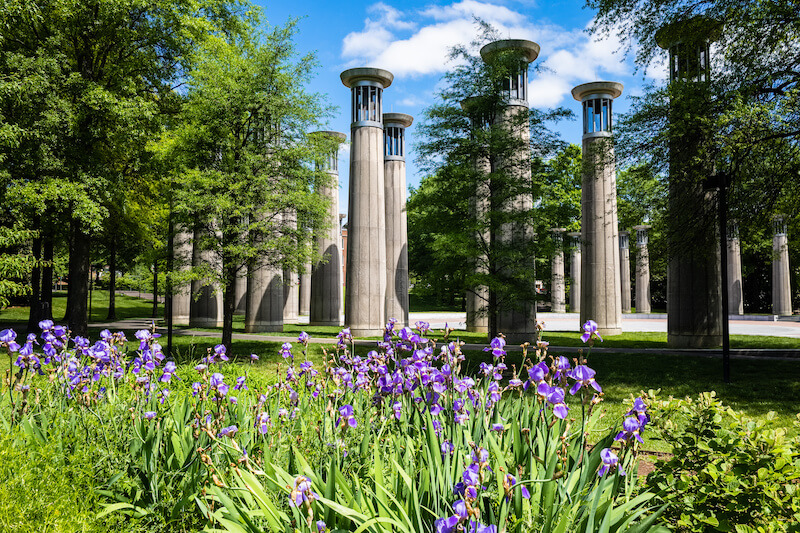 Explore Bicentennial Capitol Mall State Park and discover Tennessee's history and natural beauty. Located in downtown Nashville, Bicentennial Capitol Mall State Park is a lasting tribute to the state's bicentennial celebration. Across its 11 acres, visitors can uncover historical elements such as a granite map of the state, the WW2 Memorial, the 95-Bell Carillon, and Rivers of Tennessee Fountains.
The Walkway of Counties showcases native plants from across the state. There's even an interactive two-page park map for self-guided exploration. The park's highlight is the bell collection that chimes every quarter hour and plays a full Tennessee melody hourly from 6 a.m. to 11 p.m.
For an unforgettable view, don't miss out on the grand 2,000-seat amphitheater with terraced lawns offering stunning views of the Nashville skyline. Plus, you can book it for private events. Year-round ranger-led tours are held here along with other local and regional events; be sure to check out their event page!
Shelby Park
Shelby Park and the Shelby Bottoms Greenway offer abundant recreational activities, from birdwatching to golfing to fishing. Situated just two miles from downtown Nashville and stretching 300 acres along the Cumberland River, this Nashville park boasts stunning views with plenty of wildlife to observe.
The park also features children's playgrounds, a designated off-leash dog area, ball fields for adults and youth, 9- and 18-hole golf courses, Sevier Lake for fishing, a boat launch ramp for the Cumberland River, multiple picnic shelters available for reservation, and the Shelby Park Community Center. The community center provides complimentary programs and basketball courts for tournaments or casual play, tennis courts, and multi-use courts.
With so much entertainment on offer in this one park alone—not to mention the additional 900 acres of the Bottoms—it's no wonder Shelby Park is considered among Nashville's best.
The Best Parks in Nashville Are Waiting
You've seen some of the best parks Nashville has to offer. From Centennial Park with its lush gardens and picturesque lake to the Warner Parks and their miles of trails and majestic views, there are plenty of options. No matter your preference, you'll surely find a park you'll enjoy when you're living in Nashville.
If you're excited by the opportunities in Nashville, contact the Ashton Real Estate Group of RE/MAX 1st Advantage with TNRealEstate at (615) 301-1650 to get in touch with our experienced team of real estate agents and discover the perfect Nashville home for you today.