8 Best Nashville Neighborhoods: Explore the Best Areas to Live in Nashville
Posted by Gary Ashton on Thursday, May 25, 2023 at 11:15:41 AM
By Gary Ashton / May 25, 2023
Comment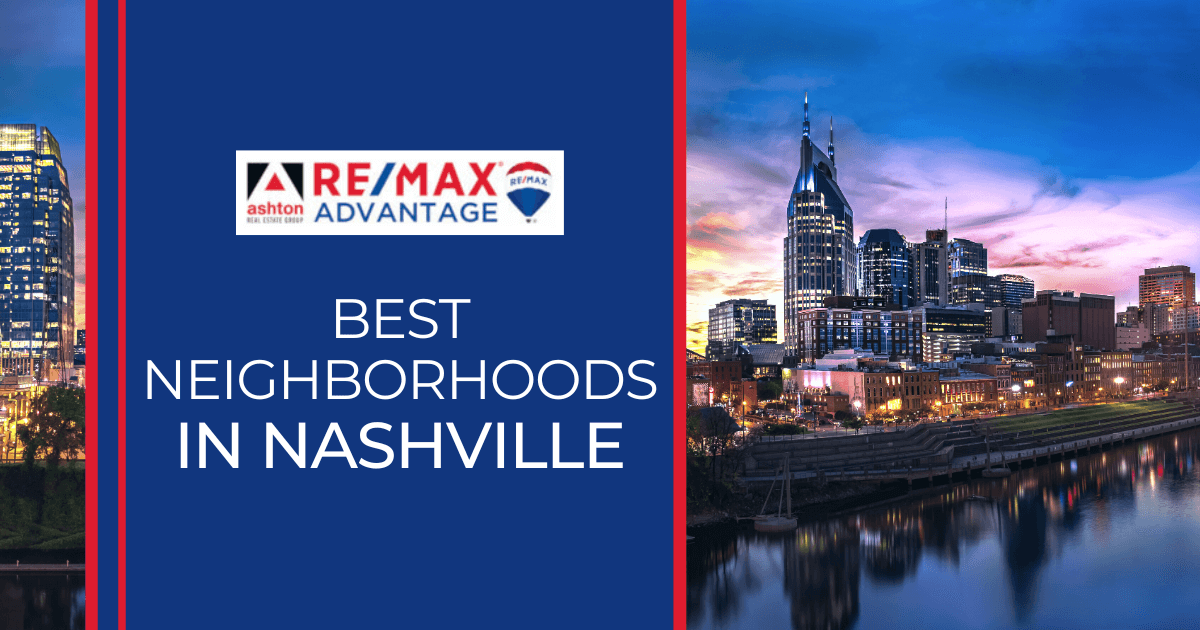 The city of Nashville, Tennessee, is rapidly expanding and evolving, and it offers neighborhoods to suit any lifestyle. From trendy urban enclaves to quiet suburban streets, Nashville has a rich and varied character. Exploring some of the best neighborhoods in Nashville is a good plan for homebuyers moving to Nashville and travelers alike. From the vibrant nightlife of East Nashville to the historic charm of Germantown, each neighborhood has its own distinct personality and amenities.
The Gulch
The Gulch is an artsy, sophisticated neighborhood located due south of downtown Nashville, Tennessee. Although it was once an industrial area, this community has come into its own with the development of elegant hotels, boutique shops, and eateries. Various upscale condominiums have also popped up, allowing prospective residents to live right in the center of all the action.
Homes in The Gulch list from around $575,000 and go up to $3 million. At the lower end of the price range are 650-square-foot condos with many excellent amenities, like fitness centers, pool plazas, and grilling and firepit courtyards. The multimillion-dollar condos feature a two-story penthouse floorplan with 20-foot ceilings, chefs' kitchens, floor-to-ceiling windows, and skyline views.
Upon moving here, residents are just minutes from enjoying the day at the Music City Center, Ascend Amphitheatre, and Bridgestone Arena. These venues offer opportunities to attend conferences, hear their favorite musicians play live for the crowds, and watch sports events.
Locally owned and operated restaurants on virtually every block give residents a great place to enjoy a beautifully prepared and plated meal any time of the day. The most popular place to get a bite to eat includes Taco Chela, Husk, and Etch. The Listening Room Café is another hot spot featuring good eats, tasty beverages, and intimate live music performances.
The Gulch Amenities
Music City Gyros
Peg Leg Poker BBQ
Slim & Husky's Pizza Beeria
Country Music Hall of Fame Museum
Johnny Cash Museum
Frist Art Museum
The Station Inn
Germantown
Just north of downtown Nashville is the quaint Germantown neighborhood. This eclectic community has a suburban feel despite being right in the heart of the city. Single-family homes pair beautifully with towering apartment buildings and commercial venues to create a unique aesthetic.
Prospective residents must decide if they'd like to live in contemporary condos, modern luxury homes, or something different. Homes in Germantown vary greatly, with prices ranging from $485,000 to over $4 million, depending on the property type and design.
The many shops around town sit in renovated warehouses that nod to the neighborhood's history. Residents don't have to walk far to shop for elegant clothing, shoes, home décor, and much more at all the little shops around town. They just have to zip over to the Nashville Farmers' Market for fresh produce, artisan goods, and a quick bite to eat.
More memorable meals are available at the many local restaurants on nearly every block. Monell's offers authentic downhome Southern dishes, including ultra-crispy yet juicy fried chicken, in a family-style restaurant. Monday Night Preservation Co. is the place to go for craft brews and cocktails paired with small bite plates galore.
Germantown Amenities
Frankie J's
5th and Taylor
Taco Mamacita
Butchertown Hall
Spread Market and Larder
The Cupcake Collection
Germantown Café
Belle Meade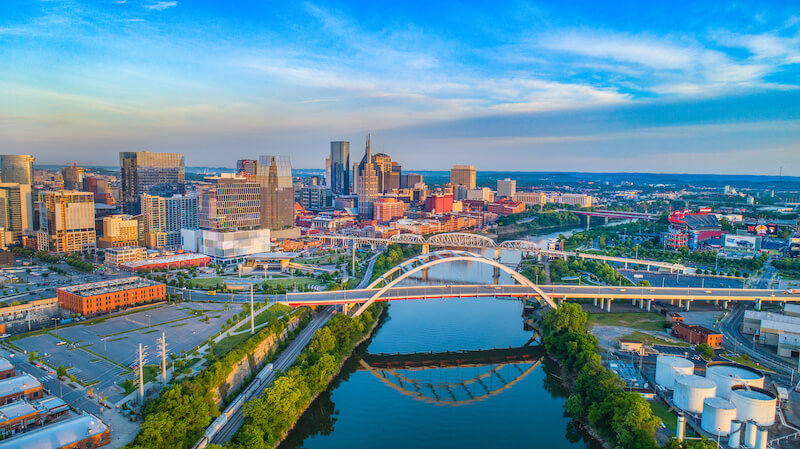 Belle Meade is well-known as "A Sanctuary of Southern Hospitality," and for good reason. This cozy suburb of Nashville makes residents feel right at home with its inviting aesthetic and tight-knit community connections. Whether they're popping in for a drink at the Belle Meade Historic Site & Winery or visiting Kever Park, they can bet on seeing a few friendly faces ready to chat.
The subdivision lies on the outskirts of Nashville yet is still close enough for a relatively quick commute into the downtown area. Residents just have to travel nine miles north to reach all their target destinations in the city center. Driving in Nashville during non-rush hour times is relatively simple, making accessing the majority of the city from Belle Meade a breeze. There are many excellent places to shop and dine along the main thoroughfare through town.
Phillips Toy Mart, Ace Hardware, and the Harper Hills Plaza Shopping Center are just a few minutes away. While running their errands, residents can always count on CAVA, Whitt's Barbecue, and Bruegger's Bagels to serve a memorable meal.
Regarding housing, most of the subdivision features Nashville luxury homes ranging from $1 million to over $15 million in price. Most homes in Belle Meade have at least five bedrooms and an equal number of bathrooms, plus gourmet kitchens, outdoor pools, and many other top-notch amenities.
Belle Meade Amenities
Le Peep
Something Special
Sperry's Belle Meade
Coco's West Italian
Escape Day Spa & Salon
Belle Meade Country Club
Parmer Park
Hillsboro/West End
Just four miles southwest of downtown Nashville lies the quaint Hillsboro/West End neighborhood. This wonderfully walkable community sits beside a dense commercial area featuring Vanderbilt University. All around the university campus, there are a variety of retailers and restaurants, along with a few community parks.
The rest of the neighborhood has an incredible mix of cottage-style homes and luxury dwellings. Most of the single-family homes were built in the 1950s but have been renovated at least once since then. A few local lots have sprawling luxury homes built on them, built in the traditional style with all the best upscale amenities. Homes in Hillsboro/West End list from $300,000 to over $4.5 million.
Residents can always find tasty drinks and meals to match at all the local restaurants in the area. Taco Mama is known for their authentic Mexican fare made using fresh, local ingredients and recipes passed down through the generations.
For a breakfast to remember, residents can land at The Pancake Pantry, where they stack the flapjacks sky high and top them with all the best flavors. Residents can stop by Jeni's Splendid Ice Creams to satisfy their sweet tooth for ice cream and frozen yogurt.
Hillsboro/West End Amenities
Love Park
St. Bernard Park
Fannie Mae Dees Park
The Co-op Frose & Eatery
Shokku Ramen
Brown's Diner
Sylvan Park
The quiet Sylvan Park neighborhood is just a few miles west of downtown Nashville. This community primarily features single-family homes, although the McCabe Golf Course takes up the entire southwest corner. Nashville State Community College and Tennessee College of Applied Technology are past the golf course, making it easy for students to get to all their classes each day. Shopping centers and eateries are conveniently located near the colleges and all along Interstate 40 to the north.
When considering homes for sale in Sylvan Park, prospective residents can expect prices from the $700s to more than $2.2 million. There are the occasional Nashville condos for $300,000 and ultra-luxury mansions for more than $10 million, too. The variety of home designs allows homebuyers to find properties that suit their personalities and preferences.
Living here gives residents convenient access to a well-maintained public golf course with a driving range and full-service snack bar. When the weather cooperates, this course fills up fast with golfers eager to challenge themselves to come in under par and play their best game yet. If they're not tired after that, the Richland Creek Greenway beckons, offering a serene walk through the park.
Sylvan Park Amenities
Lola
Star Bagel Café
Edley's Bar-B-Que
Five Points Pizza West
The Noah Liff Opera Center
Climb Nashville West
Nashville Ballet
Midtown
Also known as the Vanderbilt area, Midtown sits between all the most popular downtown neighborhoods and is great for accessing many of Nashville's schools. This community is home to the gorgeous Centennial Park, complete with The Parthenon Museum at the center. Vanderbilt University and all its surrounding eateries and shops are also on the east side of the neighborhood space. The area boasts a high walk score as a result, making it easy for residents to go without a personal vehicle more often than not.
Upon setting their sights on this area, homebuyers choose various upscale condos and townhomes. Many properties have open floorplans and wide-sweeping views of the downtown area from the balconies and huge picture windows. Luxury features, including gourmet kitchens, herringbone hardwood floors, and motorized window treatments, are also common.
Homes in Midtown Nashville list from the mid-$300s to more than $3 million. The total price primarily depends on the property's location, features, and amenities. Upon securing their dream property, residents get convenient access to all the top venues, including restaurants like Sweet Dots, The Baked Bear, and The Local Nashville. With the Centennial Sportsplex nearby, they can enjoy ice skating, tennis, and many other sports activities whenever the mood strikes.
Midtown Amenities
Bricktop's
I Love Sushi
Elliston Place Soda Shop
KOKOS Ice Cream Scoop Shop
Stoney River Steakhouse and Grill
Scarritt Bennett Center
Downtown Nashville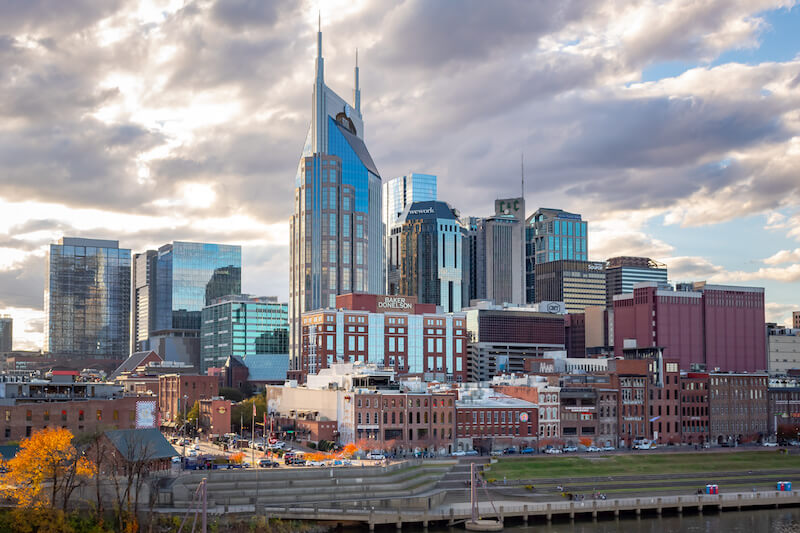 Downtown Nashville is Music City's heartbeat, offering endless shopping, dining, and entertainment opportunities. Not a day goes by when the latest and greatest country musicians don't play their most popular tunes for the crowds at the historic buildings turned music venues. Locally owned restaurants, boutique shops, and art galleries add to this area's magic.
With the Honky Tonk Highway nearby, residents never have to go far to hear live music while sipping their favorite beverages. Every day of the year, the party keeps going day and night, as businesses all along that stretch fill the streets with music. Different musicians play every night, too, allowing patrons to discover new artists while making memories to last a lifetime. The most popular places to spend the evening include Miranda Lambert's Casa Rosa, Jason Aldean's Kitchen and Rooftop Bar, and AJ's Good Time Bar.
When moving here, prospective residents will find homes ranging from modest to luxury designs; with a rising cost of living in Nashville, this variety is particularly valuable. Homes in downtown Nashville range from basic one-bedroom, one-bathroom condos to 1,500-square-foot penthouse suites with luxury amenities galore. Prices vary wildly as a result. Homebuyers may pay anywhere from $199,000 to over $2 million for their property of choice.
Downtown Nashville Amenities
417 Union
Black Rabbit
Frothy Monkey
Oscar's Taco Shop
Jeff Ruby's Steakhouse
Tennessee Performing Arts Center
Nashville Public Square Park
Edgehill
South of downtown Nashville is the constantly evolving Edgehill neighborhood. This community pays homage to its rich, 200-year history through the variety of beautifully transformed historical buildings. Many bars and other popular joints have moved into these structures, adding their own personal touches while keeping the original aesthetic.
Three huge neighborhood parks elevate the atmosphere even more by giving residents space for playing sports, having picnics, and simply soaking in the beauty of nature. Regarding sports, Rose Park is the top spot in the neighborhood. This space has two baseball diamonds, a batting facility, a soccer field, basketball courts, an outdoor pool, and a massive track. Reservoir Park and Edgehill Park offer more space to run, play, and relax.
Due to how the neighborhood has evolved through the years, homebuyers have many different home designs to consider. Homes in Edgehill range from quaint bungalows built in the 1970s to new luxury dwellings with rooftop decks offering unmatched skyline views. Home prices start at around $560,000 and exceed $2 million. The cost largely depends on the property's age, style, features, and the quality of the finishes.
Edgehill Amenities
Café Ma'kai
Smoothie King
Barcelona Wine Bar
The Well Coffeehouse
McDougal's Chicken Fingers & Wings
Nashville Public Library – Edgehill Branch
Flora Wilson Community Park
Your Nashville Neighborhood Awaits
Nashville is a city that offers an abundance of great neighborhoods to suit any taste. From the eclectic and funky areas like downtown to some of Nashville's most expensive neighborhoods like Sylvan Park and Belle Meade, there's a neighborhood for everyone in the Music City. So if you're thinking of relocating to Nashville or just looking for a new place to call home, be sure to check out these top neighborhoods and discover the unique charm and character of each one.
If you're excited by the opportunities in Nashville, contact the Ashton Real Estate Group of RE/MAX 1st Advantage with TNRealEstate at (615) 301-1650 to get in touch with our experienced team of real estate agents and discover the perfect Nashville home for you today.