Best Nashville Townhomes: Music City Communities with Great Amenities
Posted by Gary Ashton on Monday, August 1, 2022 at 2:28 PM
By Gary Ashton / August 1, 2022
Comment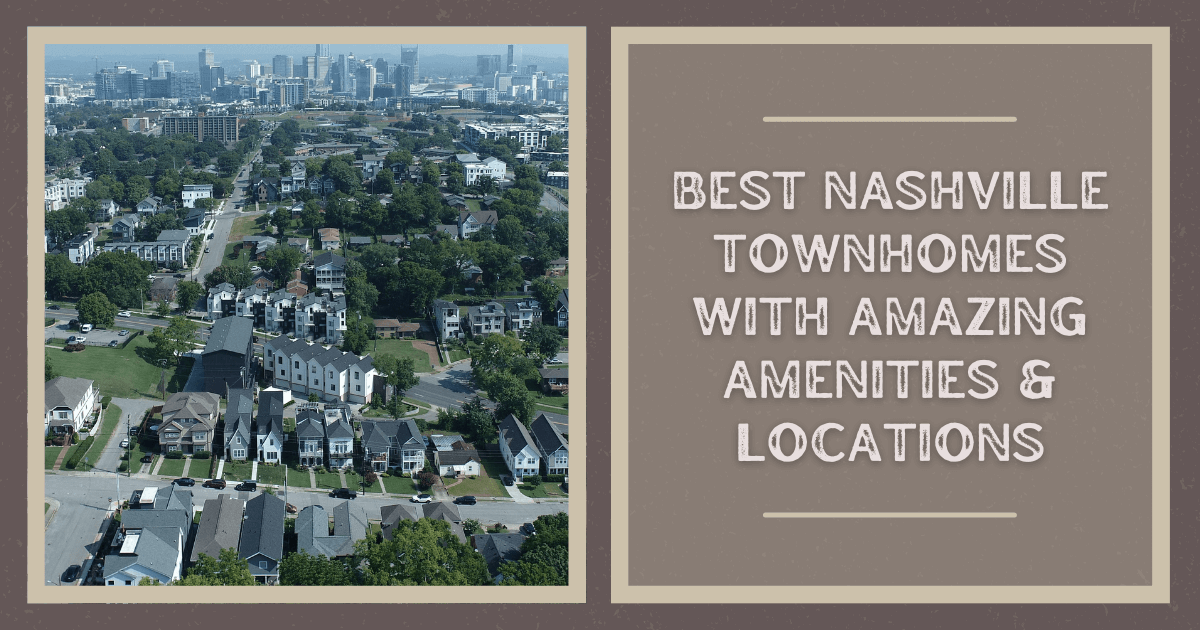 The city of Nashville has many fantastic places to call home from cozy neighborhoods to high-rise condo buildings. However, what some people may overlook when it comes to housing are the fantastic townhome communities. There are plenty of Nashville townhome options for those looking for this style of home. If you're searching for a place to call home in Music City, consider these four Nashville townhome communities with amazing amenities.
Thornton Grove Townhomes
Thornton Grove is a brand-new townhome development located about eight miles north of downtown Nashville. Buyers who choose this community are getting new construction townhomes with attached garages and premium locations that are on par with the most desirable Nashville apartments.
Thornton Grove's floor plans feature three-bedroom, two-bath homes across 1,220 square feet. The townhomes come fully equipped with a washer, dryer, all modern kitchen appliances, Wi-Fi-enabled living spaces, Nest thermostats, and other smart home features. Each townhome has a small yard, and community association fees cover all yard work and maintenance.
There are several horse properties near Thornton Grove Townhomes, so expect to see neighbors out riding when the weather is nice. The community is near Willow Creek Park, a large, undeveloped park located just east of the community. Thornton Grove residents can easily access I-24, which leads directly into downtown Nashville. Residents can head to the Gaylord Opry Mills Mall or the East Nashville area for the closest shopping and fine dining.
Thornton Grove homes range in price between the mid-$260,000 range and the low $300,000 range.
Proximity
Proximity is just minutes north of downtown Nashville, on the north side of the Cumberland River. The homes are built on a bluff with breathtaking, unobstructed south-facing views of the city skyline – and that's just where the perks and amenities begin in this Nashville townhome community.
Eight floor plans are available across these new construction, three-story townhomes. The smaller homes feature three bedrooms, 3.5 baths, and a balcony or roof deck. The larger homes have four bedrooms, 4.5 bathrooms, a rec room, and either a roof deck or balcony. Square footage ranges from 2,200 square feet to more than 3,100 square feet.
Each Proximity townhome has an attached two-car garage. On the larger four-bedroom units, the garage and rec room are on an added basement level. The interior's trims, countertops, appliances, and fixtures can be customized. Proximity offers award-winning outdoor spaces for community members, including premium landscaping, outdoor firepits, barbecue grills, tables, and chairs.
Proximity is in a trendy part of Nashville. Boutique shopping, vintage stores, and some of the city's most beloved fine dining spots are just a short drive from this Nashville townhome community.
The Highlands at Stoneridge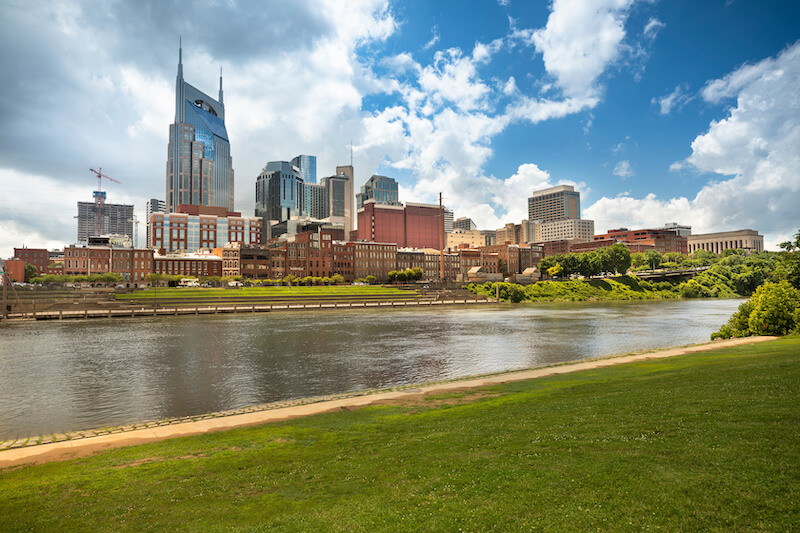 The Highlands at Stoneridge is west of Nashville in the Bellevue community and features beautiful and luxurious three-story townhomes with attached garages. The homes are narrow and tall as a space-saving feature, and buyers can expect to have a neighbor living directly on one or both sides of their home.
While each townhome has 3.5 bathrooms, the homes are one of two floor plans: one contains two master bedrooms, and the other has three bedrooms. One stand-out feature about these homes is that they have a 10' by 16' covered and enclosed patio on the ground floor, with a second-floor covered deck directly above the patio.
Several outdoor parks are a short distance from The Highlands, in addition to two golf courses, Harpeth Hills Golf Course and Percy Golf Course. Cheekwood Botanical is a great outdoor space to get lost for an afternoon. For entertainment, these townhomes are not far from the world-famous Ryman Auditorium and the Tennessee Performing Arts Center (TPAC).
There are so many aspiring musicians here in "Music City" that the free Music in the Park Festivals happening nearby are always exciting. Fine dining, Tennessee nightlife, and multiple shopping outlets are also nearby.
Townhomes in the Highlands at Stoneridge start in the $500,000 range.
Vibe
Vibe is a community of new construction townhomes featuring three-story units near East Trinity Lane in East Nashville on the north side of the Cumberland. There are 38 homes in the community, each with its own two-car attached garage.
Vibe's homes were built between 2016 and 2019, so they are still very new. The smaller two-bedroom, 2.5-bathroom homes (1,500 square feet) sell in the mid-$300,000 range. The larger three-bedroom, 3.5-bathroom homes with 1,900 square feet sell in the low- to mid-$500,000s.
Highway 31E is just a few blocks from Vibe and offers a direct route into downtown Nashville. The community is as close as one can live to downtown without being in the city. The city's major amenities are just a short drive from Vibe.
Amazing Townhome Living in Nashville
These luxurious Nashville townhouse communities provide buyers the chance to get into a property without the maintenance responsibilities of a single-family home, which is one of the benefits of buying a townhome. If you're still deciding on the best first property to buy, remember that yard work and outdoor landscaping are always handled by an association and are covered by monthly fees, freeing up more time for you to enjoy everything Nashville offers.