5 Best Master-Planned Communities Near Nashville: Beautiful Homes With Top-Notch Amenities
Posted by Gary Ashton on Thursday, June 29, 2023 at 1:51:21 PM
By Gary Ashton / June 29, 2023
Comment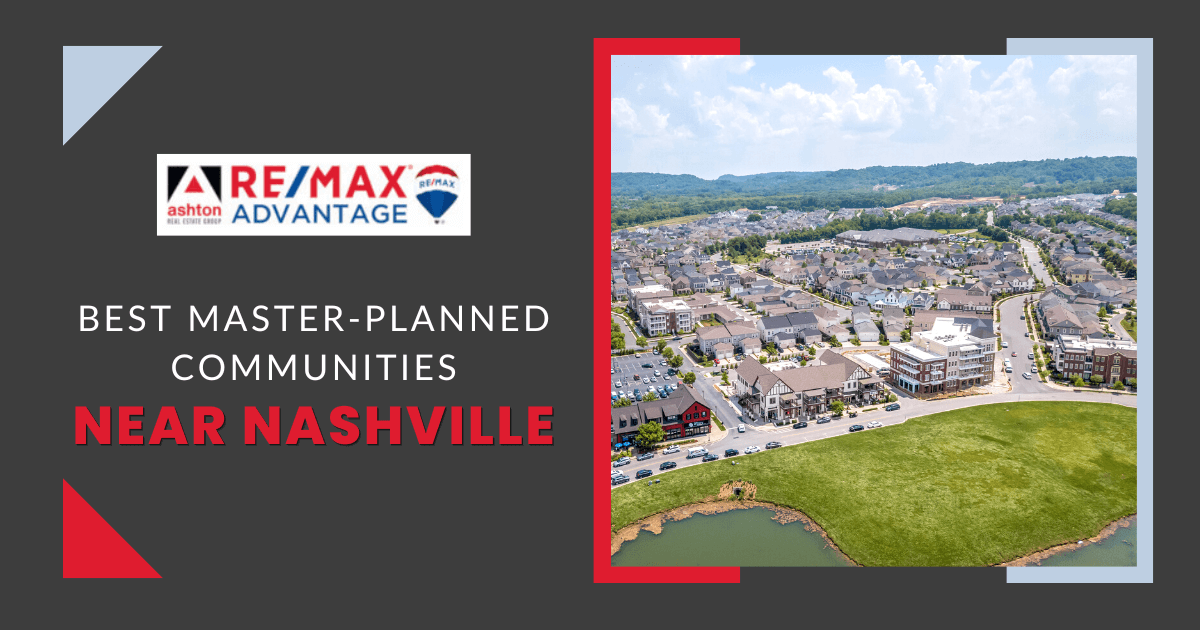 Nestled in the enchanting landscapes surrounding the city of Nashville, Tennessee, lie master-planned communities that epitomize refined living. These exceptional neighborhoods offer an unparalleled blend of amenities, natural beauty, and architectural splendor. From stunning homes and world-class recreational facilities to thoughtfully curated green spaces, they present a haven for individuals moving to Nashville who are seeking an elevated lifestyle away from the bustle of the urban center.
StoneBridge
Some 25 miles east of downtown Nashville sits the master-planned community of StoneBridge, which is in the city of Lebanon. Established by Goodall Homes in 2010, this MPC has approximately 800 ranch-style homes. The neighborhood consists primarily of three different types of homes.
StoneBridge Cottages: These attached townhouses feature floorplans that range from 1,400–2,100 square feet, offering two to three bedrooms and two to three bathrooms. Prices range between $329,000 and $425,000.
StoneBridge Villas: These duplexes are priced between $394,000–$490,000 and offer one or two stories, two to three bedrooms, two to three bathrooms, and 1,500–2,400 square feet of living space.
StoneBridge Single-Family Homes: These residences offer the most extensive floor plans in the community, topping out at over 2,900 square feet. Available in one- and two-story configurations, these houses usually have three to four bedrooms and two to three bathrooms, and prices range between $409,000 and $470,000.
StoneBridge residents enjoy resort-style living, centered primarily around the 8,800 square-foot community clubhouse, which offers a lounge room, fitness center, and a game room. Other community amenities include a Junior Olympic-sized pool, a scenic pond, and a walking trail.
Lenox Village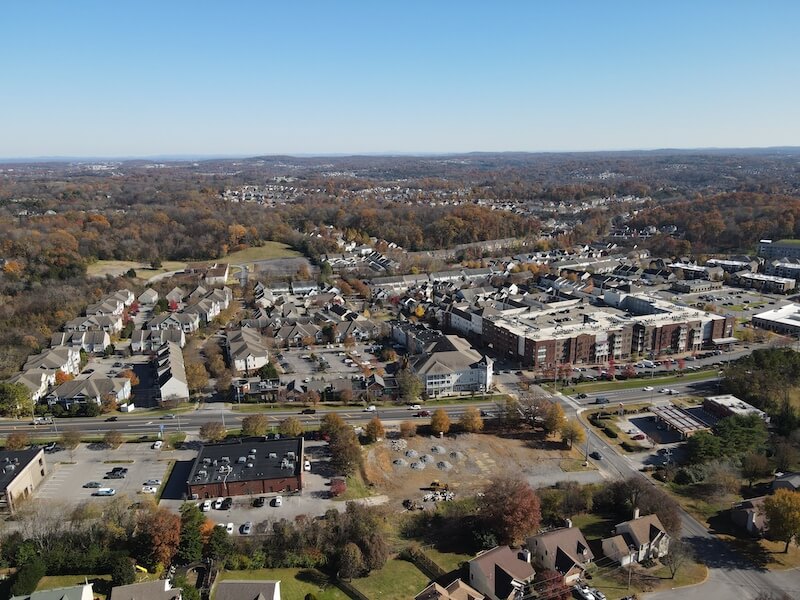 Approximately 15 miles southeast of downtown Nashville is the master-planned community of Lenox Village. Built in 2001, this MPC features one- and two-bedroom Nashville condos and attached townhouses in a vibrant community that evokes the feel and charm of a small Tennessean town.
Lenox Village was designed to embody several New Urbanist principles, including having homes at various price points and incorporating natural environments, such as a restored natural stream that serves as a habitat for endangered marine life. Residences here usually have one or two bedrooms and one or two bathrooms in buildings with traditional colonial architecture. Standard home features include two stories, carriage garages, and direct access to the outdoors in the form of a balcony or porch, private yard, or a greenbelt. Homes for sale in Lenox Village average around $238,000, with the upper-end selling for approximately $550,000.
While Lenox Village is close to Nashville attractions—located between downtown and the town of Nolensville—residents don't have to venture far from home to enjoy dining, shopping, salons, and other services. You can easily walk along the community's tree-lined streets to visit local businesses and other places of interest like parks. Lenox Village also has a town center and pavilion available for residents. Just outside the community is the Mill Creek Greenway, an area with three miles of hiking trails between the Antioch and Ezell Road parks.
Stephens Valley
Stephens Valley is a master-planned community less than 30 minutes southwest of downtown Nashville in the city of Franklin. Named for the Stephens family, founders of the Stephens Manufacturing Company that operated in the area in the early 20th century, the community was established in the late 2010s.
Homes in Stephens Valley range from luxury townhouses to large single-family residences, all nestled among preserved forests and meadows. Houses here run between $726,000 and $1.64 million in price, and most were built between 2018 and 2022. Floor plans offer 2,600–5,000 square feet, and Stephens Valley homes most commonly have three bedrooms and three bathrooms. However, larger properties can top out at six-plus bedrooms and bathrooms.
One of Stephens Valley's biggest draws is being close to outdoor spaces where the area's natural beauty has been preserved. Residents enjoy regular access to several outdoor amenities and features, including:
Several neighborhood parks
Athletic fields
Community garden
Dog parks
Farmers' market
Playgrounds
Swimming pools
Workout facilities
Enjoy tree-lined, well-lit streets and frequent community events in Stephens Valley. You may even run into a few country music celebrities living in and around Franklin!
Westhaven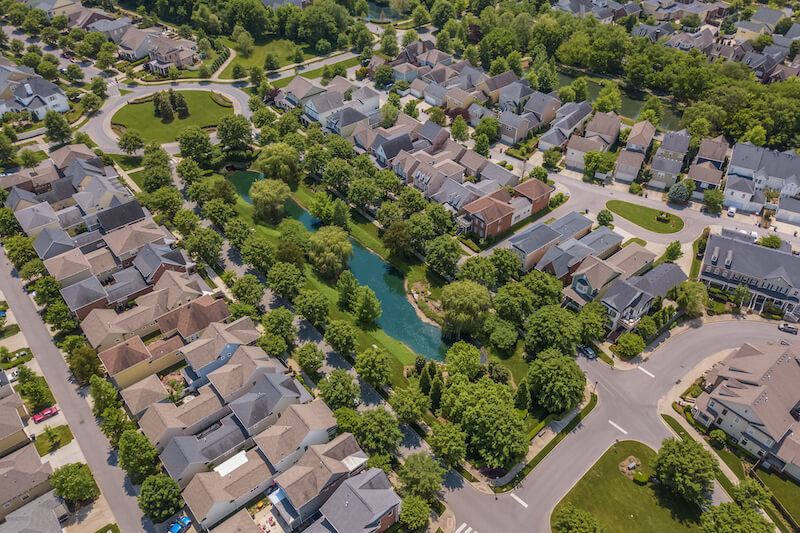 You'll find the master-planned community of Westhaven nearly 25 miles southwest of downtown Nashville in Franklin. The Southern Land Company created and developed this MPC in the 2000s. Today, Westhaven is considered one of the nicest neighborhoods in Franklin and greater Nashville.
The resort-style community comprises large Franklin luxury homes built with traditional architecture that highlights classic and modern features. Most floorplans have over 3,000 square feet and four or more bedrooms and bathrooms. Many properties have front and back porches while offering modern amenities, such as high-end appliances, tankless water heaters, and high ceilings. Available homes in Westhaven range from $809,000 to just over $3.8 million.
Westhaven residents enjoy several resort-style pools within the community, including some with water slides and a heated saltwater lap pool. Hiking trails connect many outdoor green spaces, stocked fishing ponds, and parks. The members-only Westhaven Golf Club has an 18-hole course, performance center, practice facilities, and restaurant. Westhaven residents also enjoy being close to downtown Franklin, which has several specialty boutiques, art galleries, antique stores, historic buildings, coffee shops, and locally-owned restaurants.
Durham Farms
Located in the city of Hendersonville, the master-planned community known as Durham Farms offers a small-town feel within twenty minutes of downtown Nashville. The neighborhood offers residents several types of homes, from townhouses to grand estates. Homes for sale in Durham Farms, many of which are new construction, list from the high $600s to the mid-$700s.
Several builders within Durham Farms include Lennar, Pulte Homes, Schell Brothers, and Grandview Custom Homes. This gives residents various floor plans and lot sizes, with options ranging from 50–70-foot lots, three to five bedrooms, two-plus bathrooms, and 1,350–4,000 square feet of living space. Some builders also offer the option of customization, allowing homebuyers to add multiple bedrooms and bathrooms. The 360 Communities neighborhood within Durham Farms offers leased homes.
All residents can access The Farmhouse at Durham Farms, a community center with spaces for hosting special events, board meetings, and birthday parties. The building includes a fitness center, a veranda, and a Wi-Fi cafe. Outside the Farmhouse is a large, sparkling pool surrounded by several covered lounge chairs. There's also a seasonal splash pad for children (or kids at heart!).
Durham Farms residents also enjoy abundant open, green spaces for alfresco living. Walking trails, tree-lined streets, a playground, and a large open lawn for community events or just relaxing all add to the small-town vibe of this MPC.
Music City-Area Master-Planned Living
The master-planned communities near Nashville offer refined living in picturesque surroundings. With their exquisite architecture, plentiful amenities, and commitment to creating harmonious living environments, these communities offer great options for luxury living without paying the premium for Nashville's most expensive neighborhoods. Nestled amidst the captivating natural beauty of Tennessee, these neighborhoods provide residents with a retreat from the city's hustle and bustle while ensuring easy access to urban conveniences.
If you're excited by the opportunities in Nashville, contact the Ashton Real Estate Group of RE/MAX 1st Advantage with TNRealEstate at (615) 301-1650 to get in touch with our experienced team of real estate agents and discover the perfect Nashville home for you today.