5 Best Lakes Near Nashville, TN: Explore Center Hill Lake, Percy Priest Lake & Others
Posted by Gary Ashton on Thursday, October 19, 2023 at 3:31:31 PM
By Gary Ashton / October 19, 2023
Comment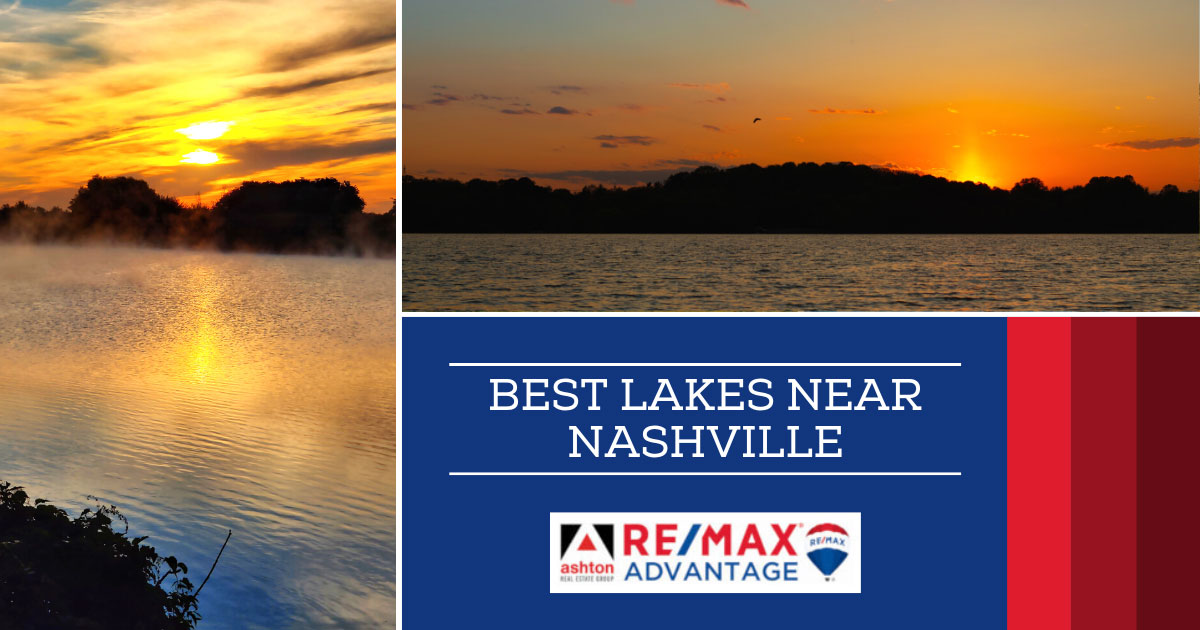 The city of Nashville and surrounding region beckons travelers and nature enthusiasts to explore its hidden aquatic gems. The city is surrounded by an array of stunning lakes that offer serene escapes and outdoor adventures. Embark on a journey through the best lakes in the city and throughout Nashville's best suburbs, uncovering the natural beauty and recreational opportunities they provide, catering to those seeking respite from the bustling city life.
Percy Priest Lake
Come explore J. Percy Priest Lake, located just 10 miles east of Midtown Nashville, for a day of fishing, boating, or experiencing the wonders of nature. Spanning 42 miles and covering 14,200 acres, the lake is bordered by the Priest Lake Park neighborhood among others, and its eastern shores are located in Rutherford County. There are 11 picnic areas, three campgrounds, and 12 boat ramps, as well as marinas and recreational clubs like the Vanderbilt Sailing Club, Vanderbilt Rowing Club, Nashville Rowing Club, Percy Priest Yacht Club, and Tennessee Boat Club.
Radnor Lake State Park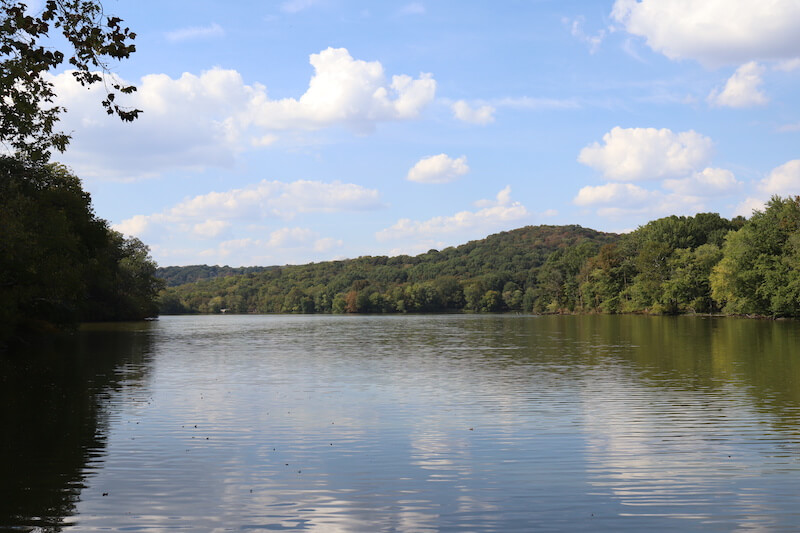 Radnor Lake State Park offers exceptional opportunities for wildlife observation, environmental education programs, and hiking adventures in an urban setting. Located in southern Nashville, just north of the border with the city of Brentwood, this 1,400-acre park includes an 85-acre lake and is the first State Park in Tennessee to receive the Natural Area designation. This Class II Natural Area is exclusively for day use, with trails designated solely for hiking, photography, and wildlife watching. Jogging and biking are limited to the Otter Creek Road Trail.
Nature enthusiasts will be in awe of the abundance of wildlife in the park, like owls, herons, waterfowl, and a variety of amphibians, reptiles, and mammals. There is also a rich variety of plant life, with hundreds of species of wildflowers, mosses, fungi, ferns, trees, shrubs, and vines.
While too far from the city center to be on some lists of the best parks in Nashville, Radnor Lake State Park is as popular a destination as any other park in the region. Throughout the year, the park hosts ranger-led programs such as canoe floats, wildflower walks, astronomy night hikes, nature hikes, and sessions dedicated to birds of prey. Radnor Lake State Park is the perfect destination for anyone looking to explore the beauty of nature while in the heart of the city.
The lake is surrounded by some of the most beautiful waterfront homes in Nashville, and if you love the great outdoors, you'll love Percy Priest Lake. Rent a boat for an independent lake exploration or enjoy the numerous parks and campgrounds. Fishing is also a very popular activity here, with a variety of species, including largemouth bass, striped bass, white bass, smallmouth bass, crappie, and bluegill, thriving in its waters.
Cheatham Lake
Experience the abundance of recreational activities offered at Cheatham Reservoir, just 20 miles northwest of Nashville. Managed by the US Army Corps of Engineers since its dam completion in 1952, the lake spans 7,450 acres. The lake is located on the outskirts of the Ashland City area.
Public boat access sites have no usage fees, while Rock Harbor Marina and the Commodore Yacht Club offer services like fuel, food, and boat rentals. Bank fishing is possible at the public boat access sites, with no piers available. Camping is also available at the Harpeth River and Lock A Recreation Areas.
For anglers, Cheatham Reservoir boasts a variety of fish, including Largemouth Bass, White Crappie, Sauger, Walleye, Catfish, White Bass, and Rainbow Trout. Fish attractor data is available for those with fishfinders or GPS devices. So grab your tacklebox and explore the recreational opportunities that Cheatham Reservoir offers.
Center Hill Lake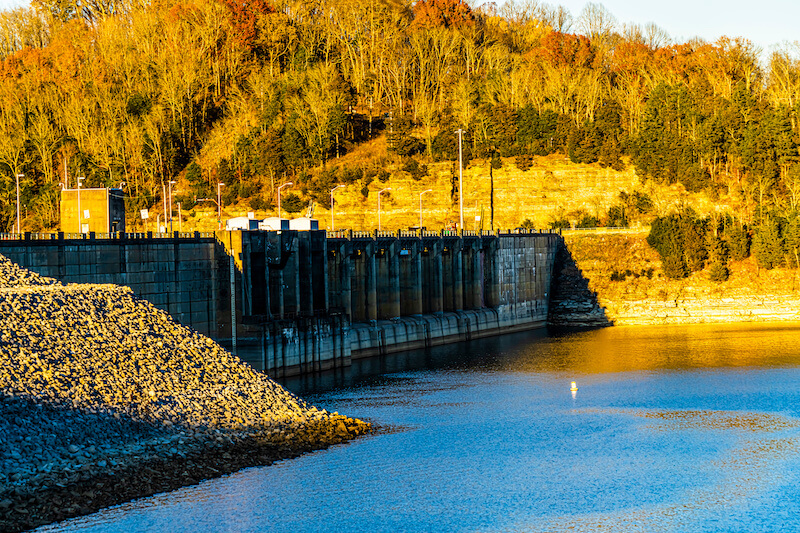 Enjoy all the activities Center Hill Lake has to offer, from fishing and boating to swimming and skiing. The lake is almost entirely located in Dekalb County, though its northern edges are near the border with Smith County. Whether you're looking for a weekend getaway with friends or a outdoor adventure, Center Hill Lake has it all. Bring your fishing pole, life jackets, and swimsuits to experience all the lake has to offer. You can spend the day relaxing on the shore, taking a dip in the cool water, or going for a boat ride. And if you're feeling adventurous, you can try your hand at water skiing, wakeboarding, and tubing.
The mild climate and extended recreation season mean that Center Hill Lake is the perfect destination for any time of year. Explore the area's natural beauty, or visit the Center Hill Lake Information Center for a visual history of the dam's construction and a wildlife exhibit. You can also enjoy various activities, from hunting and camping to picnicking and canoeing. No matter your interests, Center Hill Lake will surely have something for you.
Old Hickory Lake
Old Hickory Lake offers a wide range of recreational activities to enjoy year-round, and while residents are never spoiled for choices in dog-friendly Nashville, the lake is a favorite among area canines. The mild climate and extended recreation season make it an ideal spot to partake in outdoor activities.
Spanning 22,500 acres, Old Hickory Lake is large enough to accommodate different kinds of boats, such as pleasure boats, sailboats, personal watercraft, and fishing boats. You can relax, participate in water sports, or go fishing. The lake also provides picnic spots, hiking trails, and camping areas for visitors to explore.
Old Hickory Lake is a great way to enjoy the outdoors. With its diverse range of recreational activities and abundance of wildlife, it's the perfect spot for a getaway. Whether you're looking for a day trip or a weekend adventure, this lake will surely provide you with an unforgettable experience.
Life is Better at the Lake
The lakes near Nashville hold a unique allure for those seeking a tranquil retreat or an adventurous outing. These natural wonders help residents escape city life, homebuyers moving to Nashville experience their open spaces, and vacationers experience the natural wonder of Tennessee. Whether one seeks solitude in serene surroundings or craves the thrill of water-based adventures, the lakes surrounding Nashville offer an idyllic escape for all to enjoy.
If you're excited by the opportunities in Nashville, contact the Ashton Real Estate Group of RE/MAX 1st Advantage with TNRealEstate at (615) 301-1650 to get in touch with our experienced team of real estate agents and discover the perfect Nashville home for you today.