4 Top Amenities for Golf Course Homes: Start With a Golf Cart Garage & Putting Green
Posted by Gary Ashton on Thursday, September 28, 2023 at 11:24:20 AM
By Gary Ashton / September 28, 2023
Comment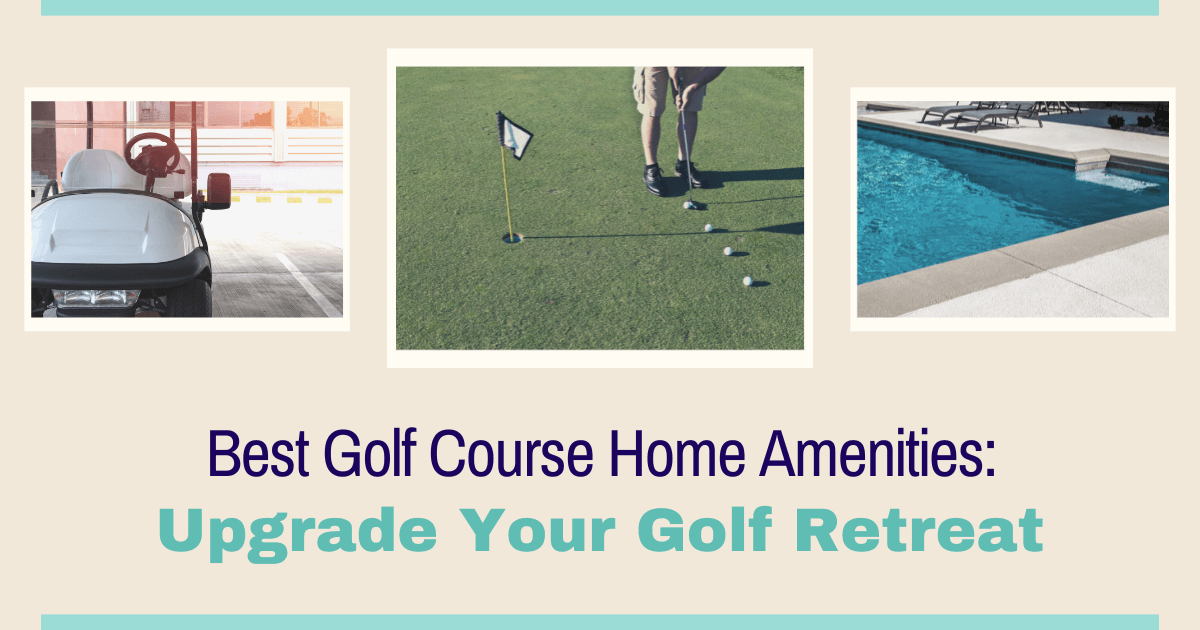 As you line up a putt at your local course, have you ever imagined living in one of the beautiful golf course homes that line the fairways? If so, you're in good company. Over 25 million Americans play golf, and many of these people are looking for the perfect home that offers the luxury features they need to enjoy the sport. To make sure your links-adjacent abode has everything you need, read on to learn about the four essential private amenities every golf course home needs.
A Swimming Pool
A swimming pool is a must-have for any golf course home. Not only do homes with swimming pools offer an oasis-like backyard experience, but they also add value to the property. A swimming pool in your backyard is one of the best investments you can make as a golfer and homeowner.
Swimming pools come in all shapes and sizes, so you have plenty of options to choose from when selecting one for your golf course home. Whether you decide on an inground or aboveground pool, there are numerous features to consider, such as lighting, water jets, diving boards, slides, and more. Additionally, you'll need to think about what type of material—be it concrete, fiberglass, or something else—works best with the design of your yard.
The next step is deciding on how you want to maintain your pool. If you don't want the hassle of upkeep yourself, then hiring someone else to take care of it might be worth it in the long run. This will ensure that your pool remains safe and clean while giving you more time to enjoy its use.
No matter what kind or size swimming pool you decide on for your golf course home, having one will undoubtedly bring years of enjoyment and provide countless hours spent relaxing during those scorching summer days out on the green.
The Perfect Outdoor Kitchen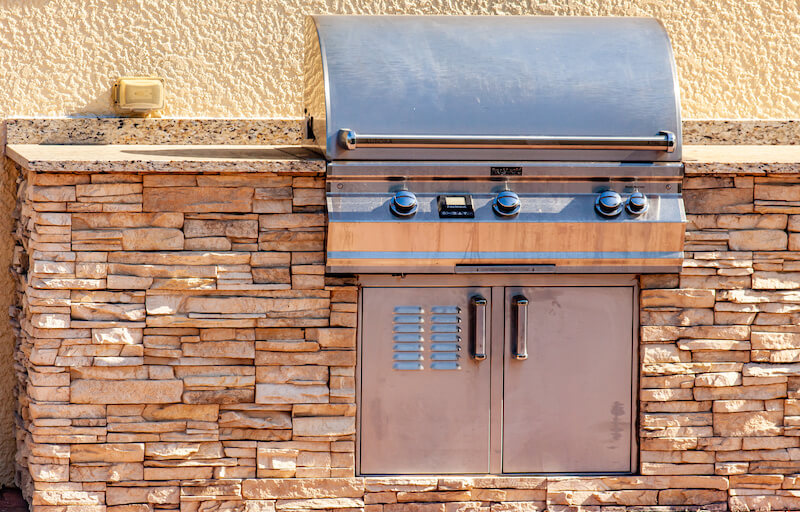 You'll love having the perfect outdoor kitchen, especially if it's comfortably shaded, thanks to energy-efficient landscaping! An outdoor kitchen is an inviting setup that allows you to enjoy dining in fresh air. Whether you're hosting a large gathering or just enjoying a meal alone, the outdoor kitchen enables you to be part of the action. From grills and smokers to pizza ovens and refrigerators, many features can be included in your outdoor kitchen. To make sure it's perfectly suited for your needs, consider these products:
Gas vs. Charcoal Grills: Both offer different cooking benefits; choose one depending on your preference.
Smokers: If you prefer smoking food, look for electric smokers with digital temperature control.
Pizza Ovens: Choose between wood-fired or gas models according to your desired flavor.
Refrigerator: Look for an under-counter model with plenty of storage space.
Countertop Materials: For longevity and durability, pick a stone such as granite or marble.
The pros of having an outdoor kitchen include being able to entertain more people while still being involved in the festivities. You won't have to worry about running inside for supplies either since all necessary equipment will be right outside your door—a major advantage to ensure safe grilling and food preparation. Plus, dining outdoors has its own charm, which can only be enhanced with a beautiful outdoor kitchen setup.
A Golf Cart Garage
Protecting your golf cart is essential if you own a home on the golf course. Installing a special garage specifically designed to store your golf cart can be extremely beneficial in ensuring it remains in top condition for years to come. This type of garage often comes attached to the standard car garage, allowing you to keep both vehicles safe and sound from harsh weather conditions.
Having a separate space dedicated solely to your golf cart will help maintain its value and ensure that it's always ready to use when needed. Not only does this provide convenience, but it also provides peace of mind while away from the property for extended periods of time knowing that your vehicle won't be exposed to extreme temperatures or other environmental factors.
Adding a golf cart garage to your home will require a fairly significant financial commitment, but since they're tremendous lifestyle enhancers in golf communities, the undertaking is considered a high-ROI home improvement. When done right, these garages can be aesthetically pleasing and highly functional additions to any property located on a golf course.
A Practice Putting Green
Installing a practice putting green at home is an ideal way to perfect your game and have some fun in the process. Having your own personal putting green allows you to practice whenever you want, without having to drive out to the golf course. You can adjust the speed of the green, set up different holes with varying difficulty levels, and even put in obstacles that will challenge your technique and accuracy. By creating your own private practice area, you can get better at putting in a fraction of the time it would take on a regular course.
Putting greens come in various sizes and materials, so there's one to fit every budgetary and space requirement—just be sure to research HOA rules to ensure compliance. There are also kits available for do-it-yourselfers who prefer to build their own setup from scratch. Whichever option you choose, make sure it has enough room for multiple players and that all surfaces are properly leveled for optimal performance during play.
Along with a good quality mat or turf surface, make sure to invest in well-maintained clubs and balls as well as some basic accessories like flags or cups to mark the hole(s). You may also want to consider investing in instructional aids such as training videos or books so you can learn proper techniques more quickly and accurately while practicing at home. Having access to a convenient practice area right at home gives you a considerable edge when playing on an actual course since you're already familiar with how shots should feel under different conditions.
Life on the Green
For golfers, there's no end to the advantages of living on a golf course, but you'll want to ensure you have all the comfort and convenience amenities. Having features such as a pool, outdoor kitchen, golf cart garage, and putting green can make all the difference between a ho-hum experience and one that will be cherished for years to come. From lounging in the pool with friends on a hot summer day to taking practice shots on your own personal putting green, these amenities will have you feeling like you've entered a world of luxury.